A bisexual gigolo for male clients
Our high end escort service welcomes a bisexual male gigolo
For some time now, we have considered diversification important in our high-end escort service. That is why we proudly introduced our very first transgender escort Helena to our escortservice last year. Today we can again introduce a special escort: Kai, a bisexual high end gigolo.
Kai is a very special young man. What makes him so special is how open-minded he is, both socially and erotically. This makes him an excellent choice for diverse clients who, like Kai, enjoy exploring each other's desires. As Kai told us: "I would describe myself as empathetic, friendly, relaxed, driven and adventurous. I have also been told that I am a good listener and I am rather chatty myself, about both deep topics as well as more light topics. My friends dare to talk about their feelings with me and I appreciate it if I can do the same with them. The adventurous aspect of this work attracts me very much. I like to try new things and get to know people." Speaking of adventures… in this blog we tell you about the adventures you can embark on with Kai.
A bisexual escort for gay escortservice
Do you like men? That's great because Kai also likes men. Although Kai finds people of all shapes, sizes and genders attractive, his slight preference is for men. This means that you can book Kai as a gay escort. Contrary to the regular offer of many gay escort services, this is not a fleeting erotic contact, but an intimate experience on both a social and erotic level. Together you can enjoy the ultimate Boyfriend Experience. Kai is available for experienced gentlemen who discreetly want to spend a good time with him, but also for less experienced gentlemen. Do you have no experience at all with homosexual contact, but do you want to take the first step? Then you can book Kai for a Virgin Experience to experience your first time together with a man in a relaxed way.
A bisexual gigolo for couples
When a couple books with our escort service, it is usually to explore the woman's bisexual feelings. But with the arrival of bisexual gigolo Kai, the man's bisexual feelings can now also be explored. Kai really enjoys exploring threesomes of all shapes and sizes, such as as a Special Duo with another Society Service escort as well as a gigolo for a couple. You can explore the man's bisexual feelings in complete freedom and within the limits set by you. Kai will pay attention to both of you and make sure the experience is enjoyable and special for all three.
Experiment with BDSM preferences
Openminded gigolo Kai likes to experiment, also in the field of BDSM. He feels most comfortable in a submissive role with a male client. With a female client he prefers to take on a dominant role and with couples Kai is a switch. But just like you, Kai likes to experiment and likes to explore and sometimes push limits when it comes to BDSM. This concerns soft to medium erotic BDSM and no extreme preferences or hard BDSM. These preferences are not possible with our escortservice. In addition, you should keep in mind that experimenting with BDSM is usually only possible if you have already booked gigolo Kai with our escortservice before.
RELATED
CONTENT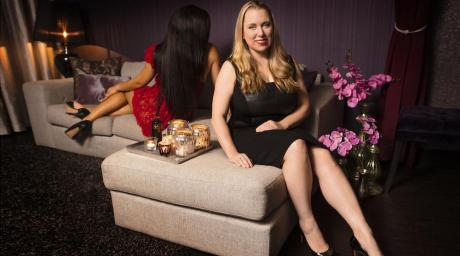 BLOG ITEM - 30 November 2021
We welcome our very first transsexual high class escort A while ago we informed you that&n...
READ MORE