F.A.Q. about working as a high class escort
Frequently Asked Questions about recruitment for high class escort
Despite our elaborate website, there are a few questions that seem to return often about working at our high class escortservice. Here are our answers!
I don't want to or can't complete the recruitment form. Can't I just come by your office?
No you can't just come by our office. We receive hundreds of applications per month, who all want an appointment with us. For obvious reasons, that's not possible. Please follow the recruitment procedure as explained on our website. Working as a high class escort is a big step that you should not think too lightly about. We are not interested in applicants who do not want or cannot take the time or effort to go through the entire procedure and read the available information. The reason for this is not only that we quickly come to the conclusion that you fit in with our escortservice. There is also a good chance that you have not been sufficiently informed to make a well-considered decision or that you take this decision is too lightly. This can cause personal problems at a later stage and we naturally want to prevent that.
I don't meet al your requirements. Should I still apply?
No, you should not. We have carefully thought about what type of escort or gigolo matches our requirements and those of our clients. If you don't meet them, we recommend contacting an alternative escortservice where you do meet the requirements. It's no fun for you or for us to reject you.
How much money will I make as an high class escort?
That's a question we can't and don't want to answer. We can't because it highly depends on the booking duration, your personal tax situation, the rate structure we agree on, your availability, how much our clients like you, etc. We don't want to answer this question because money should not be your sole or main motivation. Having said that, our high class escorts enjoy high salaries with a job they enjoy. Of course you have to pay tax on your income with our escortservice. This is done through an opting-in structure, in which we take on all administrative tasks. You do not have to register at the Chamber of Commerce. We make very clear salary agreements with each other in advance, so that no discussion can arise about this during our cooperation. Part of these agreements concerns travel costs. These are included in the salary that we agree with you, but you decide how far you want to travel for short bookings.
Are there any costs associated with my work as a high class escort?
Not much. Trust is the basis of our collaboration and the least you can expect from us is that we have so much confidence in our collaboration that we will cover the costs for a photo shoot and workshops. Of course, on the condition that you take our collaboration just as seriously. We also do not expect you to immediately purchase a new wardrobe consisting of luxurious lingerie, clothing and accessories, with an associated price tag. Almost all our new escorts have an outfit that is sufficient for the first bookings. Such expenses are always on a voluntary basis and will only be an issue once you have done your first bookings and are therefore sure that you enjoy working as a high class escort enough. Having said all this; we may not expect an 'investment' in the sense of money, but we do in time, effort and commitment.
How is my safety guaranteed?
It's not. We understand this is probably not the answer you want to hear but it's the honest truth. Neither is your safety guaranteed when crossing the street. Some applicants are under the impression a bodyguard should be present during all bookings to collect her if necessary. That's rubbish. If there is a real threat, a bodyguard will do you no good. Before you get his attention and he is able to reach you it would be too late. Therefore safety measurements are taken before the booking, not during the booking. This starts with us, the team behind Society Service. Aside from some strict rules, we follow our intuition. If something just doesn't feel right, we rather decline the booking than take our chances. The same goes for you. If your gut feeling tells you something is wrong, we teach you to trust this feeling and leave the booking. This is a successful method, as we have never had an incident. During bookings, you can always reach us. Clients can not reach us after 10 PM, but during the entire duration of your booking we are there fore you, within opening hours or not. So if you need our assistance or guidance, that's always possible.
Can I do this job anonymously?
No. First of all it's not possible to apply under a fake name. Doing so will result in us canceling your recruitment process instantly. If you have any worries about our company, you are free to check our permit-, VAT- and Chamber of Commerce number, listed here. In addition, since we run a fully legal escortservice, you have to pay taxes. This means you will be linked to our company at the tax authority, since we will be paying your taxes to them through an opting-in structure. So no, you can not do this anonymously. You can however do it discreetly. If you don't want to, and are willing to make an effort, it is very well possible to work as an high class escort and keep it a secret for your friends and family. We have worked with many escorts throughout the years, some very prominent, and they have been fully successful in keeping working as a high class escort a secret.
Can I work for you without a profile on the website?
All our escorts have a profile on our website. This profile almost always includes photos. If an escort does not yet have photos in the profile, this is because they are simply not yet ready, such as with new escorts, or because the escort is a well-known Dutch person. On the public part of our website our escorts are made unrecognizable by means of a blur over the face. We also remove recognizable things such as tattoos, birthmarks and scars. We are happy to photograph you looking your best, but do not edit our photos in a way that you no longer look like your photos. The photos are available in a relatively small format. This benefits both the loading time of our website and your recognizability. Furthermore, a part of our regular clients has access to our member area. Here are all escorts, with the exception of famous Dutch escorts, recognizable on the photos. It is not possible to work with us without recognizable photos in our member area. Rest assured, our member section is not massively visited by thousands of clients every day. The amount of visitors is closer to tens than hundreds a day. For one client the face is not that important, for the other it is the most important thing that determines everything. To meet this need, we have made the member area available, under strict conditions. However, we never send extra photos via e-mail or otherwise to clients, as many escort agencies do. With our member area we can apply strong security and control. When photos are made available in another way, this is not possible and the question is where your photos end up. That is why we have opted for a member area.
Do I get a picture of the client before the booking?
No, and if his looks are of great importance to you, please do not apply. You are not suitable to work as an high class escort. Clients come in all shapes and colors, that should not make any difference. We fully understand if you do not want to meet clients of your own ethnicity because that's getting to close for you, or from a certain background because of a bad experience in the past. We also understand you are worried about connecting with clients older than 67, due to the large age difference. But it you want to check how handsome the client is, and then decide if you want to meet him, is not an option. The favorite clients of an escort are usually not the most handsome ones, although it helps, but those she connects with intellectually and emotionally.
Do I need to worry about my neighbor being my client?
No, you do not. We will provide you with information that will help you prepare for your booking, get to know your client beforehand a little already and learn more about his desires, expectations and plans. This information excludes the possibility of you running into a person you know in day to day life, but we do of course value the need for discretion of our clients. We do the same for you after all.
I have no experience as an escort, how will I know what to do?
Don't worry, before your first booking you'll be taught everything there is to know. In addition, you can ask us anything, we've heard it all before. We will not throw you in the deep. Your first bookings will be with our most trusted repeat clients we have known for years and who know how to make you feel comfortable. Ask any of our escorts, the build up to "regular" bookings is very slow and natural. You are not rushed into anything. Throughout your time with our company, your knowledge is enhanced by the courses we offer to our escorts, making you an excellent high class escort as time goes on.
What sets you apart from other high class escortservices?
Nothing and a lot. At the end of the day, many of our clients have experience with other escort agencies as well. So chances are the type of client will not be very different between the high class escortservices in The Netherlands. But the way we do business is very different from other escort agencies. We all have our own vision on what works and what not, and we do things the way we believe results in the most happy clients, escorts and management. In general, we would say our approach is very professional and straight forward, based on honesty and clear agreements. Society Service has been in business for over a decade, this makes a difference. It makes us more experienced than younger companies, with a larger and more stable client base and tailor-made automation to make things go as smooth and easy as possible. In a nutshell, those are the difference of importance for selecting the high class escortservice to work with. We could write a book about it. Oh wait... we already did! We can not tell you if we are the best agency for you, that's up to you to decide. We recommend applying with at least one other high class escortservice and see where you feel the best connection. We will most certainly not provide you with a list of reasons why not to join a certain other escortservice, that seems rather childish to us.
How often can or do I have to work?
Let's start with the most important thing; you do not have to do anything. You are under no obligation to accept all booking requests. Working as an high class escort is an adventure in addition to your studies or day job. We understand you have a life outside escorting. But we do expect reasonable flexibility. If you are only available two evenings a month, we can not work with you as your availability is too limited. Most of our escorts have a few bookings a week, which may fluctuate. They are in charge of their own calendar, which is displayed in the profile of each escort. If no booking is confirmed, the escort is free to change his or her schedule at any time. We do not expect you to wait at home or our office, dressed and ready to go. You are given appropriate time to get ready for your booking, if you choose to be available that day. We close our office for new bookings before midnight, so will not expect you to rush off to a booking in the middle of the night. We too need to catch some sleep. In addition, the majority of our bookings is scheduled well in advance. In general our clients book at least a few days in advance, some even weeks or months in advance. Having said that, if your availability is so limited it results in very little bookings, we might need to have a chat with you.
Will a private driver provide transportation to and from bookings?
If you want, yes. We choose to offer our escorts a salary that's including travel expenses. You are free to choose how you wish to spend these. We are fine with whatever travel methods you choose, as long as it's safe and reliable. So if you want us to arrange a private driver for every booking, that's perfectly fine by us but it will result in a lower salary for you. We offer overnight accommodation for escorts based outside Amsterdam whose booking finishes late in the evening in the Amsterdam area, which is free of charge.
Will all my bookings include a private jet, yacht or at least a 5 star hotel?
No, it will not. But some will. We will not promise you jetset glamour all the way, because that's not the case. Our bookings vary from a 2 hour erotic rendezvous in a 4 star hotel to visiting exotic islands with a private jet. And everything in between. In general, our clients are looking for a temporary girlfriend or boyfriend, who is intelligent, fun, beautiful, sexy and more. The majority of your bookings will be shorter private dates focussed on eroticism, dinner dates focussed on romance and overnights for the ultimate Girlfriend Experience or Boyfriend Experience, in The Netherlands. And a small part will be longer international bookings to cosmopolitan cities and dream destinations. However, the latter heavily depends on your ability to connect with a client and of course your schedule. Some of our escorts fly around the world, others never do and the reason for this difference is often a mystery to us as well. There may be agencies that will promise a jetset lifestyle, but we have yet to find an escort agency that actually lives up to that promise.
Do I have to be very experienced as a lover?
Yes, reasonably. To work as a high class escort or gigolo after just a few sexual experiences may not be very sensible. The average high class escort or gigolo has an above average interest in eroticism and sexuality. A logical consequence of this is a broad sexual experience. However, this is independent of the number of bed partners. Someone who has only had a handful of bed partners but has had longer relationships with them be just as suitable as someone with many different bed partners. What is more important is that you enjoy sex, like to learn more about sexuality, are open to new experiences and the pleasure of your bed partner is at least as important as your pleasure. No matter how many bed partners you have had, we naturally expect that you only have safe sex, also in private.
Do I have to do kinky things and have anal sex?
No. Again, you do not have to do anything. In general, we offer what's called a Girlfriend Experience. That's what our clients expect to share with you, under the condition they are treating you with respect and are well groomed. That's also what we expect you to share with clients so if you do not like the idea of french kissing clients, please do not apply. Extra services, such as kinky things, BDSM and anal sex, are at the discretion of the escort. You are free to decide if you are open to offering these services. If you are, you can still decide per booking if you're up for it or not.
RELATED
CONTENT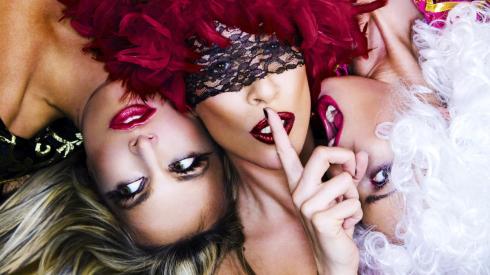 BLOG ITEM - 15 March 2023
The application procedure of an escort explained step by step Are you considering applying...
READ MORE