Plan the overnight stay with your escort
The layout of an overnight stay with your high class escort
An overnight stay, or "Overnight" booking, is a common booking type at our high class escort service. As the name might suggest, with this booking type you spend the night with your high class escort. Naturally, people actually sleep during the booking, at least 5 hours to be precise. But what does such a booking look like?
In this blog we tell you more about what the layout of an overnight stay with a high class escort looks like. There will be no standard timetable, every booking will be a little different in the end. However, in this blog, we do offer you some suggestion for you to consider.
Shorter overnights of 10 to 12 hours
If your shorter overnight stay starts after 9pm (usually between 9pm and 11pm), it is customary to spend the first few hours of your booking getting to know each other, whether or not in a social setting. After spending erotic time with your escort you will literally sleep together with the escort. Your escort expects to be able to sleep undisturbed for at least 5 hours. Time permitting, in the morning there will be time for breakfast, but in any case a cup of coffee or tea to start the day.
If your shorter overnight stay starts before 9pm (usually between 7pm and 9pm), you will have dinner together with your escort. Given the limited time, this will not be a very elaborate dinner. After an erotic dessert in a private atmosphere, you will say goodbye to your high class escort in the early morning (but after 06.00).
Longer overnights of 16 to 20 hours
A longer overnight stay of 16 to 20 hours usually starts at the end of the afternoon or early evening, between 4pm and 7pm. You will have an extensive dinner with the escort and perhaps visit a (theatre) performance, a museum or other fun activity. You have plenty of time in the evening, as your booking does not end very early in the morning. That means extensive bathing, massaging each other, having sex... or maybe you have something naughtier in mind. The possibilities are endless and you can explore them together with your escort. After a wonderful night's sleep, there is ample time in the morning to do this all over again, after an extensive breakfast in bed of course. There will also often be time to enjoy the wellness in the hotel, a brunch, nice walk and other fun activities.
The middle way; an overnight of 14 hours
When you choose an overnight stay of 14 hours, it is customary to start your booking with an extensive romantic dinner with your escort. Usually this is not combined with another activity such as theater visit. Your booking will therefore start in most cases between 6pm and 8pm. After a delicious dinner, you can retire to the private atmosphere with your escort to continue enjoying each other. After a well-deserved night's sleep, there is usually also an opportunity in the morning for entertainment in bed. And we're not just talking about breakfast in bed.
RELATED
CONTENT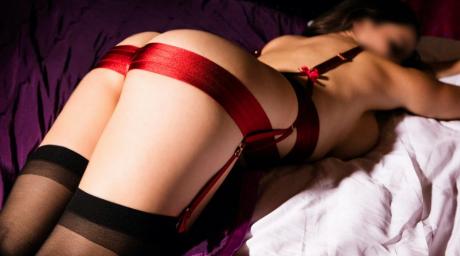 BLOG ITEM - 31 October 2018
An overnight stay with a high class escort About a quarter of the bookings with our high c...
READ MORE