Enjoy our escortservice at these special hotels
Special hotels to enjoy with your high class escort
There are amazing hotels to be found throughout The Netherlands. In the past few years, we have welcomed several new luxurious five star hotels in Rotterdam, Amsterdam and other locations in The Netherlands. Our escortservice is available at (almost all) four or more star hotels. But when you are looking for something more than luxury we have some very special suggestions to enjoy with the high class escort of your choice.
Enjoy a jacuzzi with the escort
The Van der Valk hotels are known for a few things; their location near a highway, large buffet-style restaurants, easy parking and... their amazing theme suites. Most of the Van der Valk hotels include a few special suites with large jacuzzis and can be found throughout The Netherlands. But amazing suites with private jacuzzi can be found throughout the country. Most luxurious five star hotels will have at least a few suites with a jacuzzi. But what if you do not want to spend as much on your suite as you already are on a night with your high class escort? In Amsterdam you can check out the junior suite of Hotel Vondel and the suites at the Amrath hotel. In The Hague the following locations offer a private jacuzzi: Hotel NH The Hague (Suite with a view) and 't Goude Hooft. In Rotterdam you can check out the Mainport hotel, Pincoffs Suites and bridal suite of the Rotterdam airport hotel. In Noord-Brabant you can check out the jacuzzi suite of the Intel Art hotel in Eindhoven and Fata Morgana suite of the Efteling hotel. In the East of the Netherlands, the fairly new Mercure hotel near Amersfoort also offers suites with a jacuzzi, as well as the suites at Hotel Reehorst near Arnhem. Not looking for an overnight stay but merely an afternoon of bubbling around? Then this private spa and whirlpool facility offers the best lounge bed: Pur Sang in Eindhoven.
Skinny dipping in your private pool
A jacuzzi isn't big enough for you? Then there are also locations that offer a private pool combined with overnight stay. It is hard to find such a location in The Netherlands, as most swimming pool suites are in more exotic sunny destinations. Nevertheless, The Netherlands does have a few locations, such as the swimmingpool suite of the Van der Valk in Akersloot. An other lovely suite with private swimming pool can be found near Breda and Tilburg as well as one near Amersfoort. Some hotels offer suites which do not have their very own private pool, but do offer exclusive after hours acces to their swimming pool, such as the Van der Valk in Hoorn. However, an overnight stay with private pool is still a difficult thing to find. There are private spa's to be found around The Netherlands, which all offer luxurious wellness, jacuzzi and pool options, but not the overnight stay. So perhaps this is more of an afternoon retreat...
Hot & steamy: Private sauna and wellness
If you are a frequent visitor of wellness resorts, you've most likely already noticed that Dutch saunas are enjoyed naked and with men and women mixed. A wellness resort can be extremely relaxing... yet also very arousing. Sweating bodies, hot temperatures, naked people all over the place... So why not book your very own wellness experience in a hotel suite with a private sauna or (and...) other wellness facilities? Again, the Van der Valk suites often offer private sauna and wellness facilities, but some other suites do as well. These are the most fabulous wellness suites we have found: The spa suite at the Mainport hotel in Rotterdam, your very own wellness villa near Maastricht, wellness suites near Nijmegen and the Intel hotel near Amsterdam. The Noord Brabant province of the Netherlands offers several private sauna's with overnight options as well, such as Spa Lagune in Veldhoven, Pur Sang in Eindhoven and Parel in 't Groen in Moergestel.
Other special suites to enjoy with your escort
Fancy something truly extraordinary that you can enjoy to the fullest with your high class escort? Then brace yourself, as we have some spectacular suggestions. Being with one of our high class escorts can make you feel like you are on top of the world. But staying at the Euromast Suite in Rotterdam will literally bring you to great heights. Spend the night in a luxurious suite 100 meters up in the air. Not high enough for you? Want to feel uplifted? Then this Airplane Suite near Apeldoorn is the perfect getaway. You will spend the night in a private jet transformed into a luxurious suite and have the possibility of joining the Mile High Club. When it comes to special theme suites, the Netherlands also offers you the possibility for an exclusive and very comfortable stay in a grain silo near Zwolle, a Watertower in Sneek or a private yacht in Rotterdam. Ultimate romance and passion can be experienced in a special setting at the Love Bubbles. At the Love Bubbles, you will be spoiled and pampered, the entire experience is created to make you have the ultimate romantic experience, from dinner and wellness to (late) breakfast in bed. However, if you are feeling naughty then we have some special suggestions. For a special religious roleplay, how about spending the night in your very own church in Amsterdam? Are you looking for something even more kinky, and wish to explore your BDSM fantasies? Then you should definitely check out this Kinky SM Suite in Amsterdam.

All mentioned suggestions are just that; suggestions. There is no cooperation between Society Service and the suggested locations. Do you have a suggestion for us? Feel free to let us know!
RELATED
CONTENT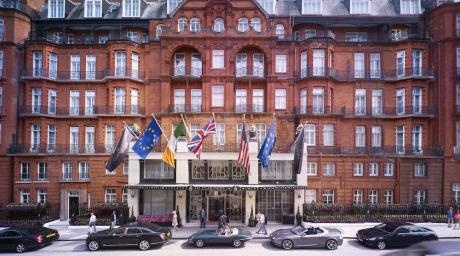 BLOG ITEM - 2 December 2020
Why a four star hotel is required for your high class escort booking In our previous...
READ MORE