The submissive BDSM fantasy of escort Melody
High class escort Melody from Eindhoven shares her submissive BDSM fantasy
Every now and then our high class escorts share a bit more about themselves in a blog. During a recent photo shoot, Melody told me about her submissive BDSM fantasies and whether they were too naughty for our escortservice. I immediately reassured Melody; just like the clients share all kinds of fantasies, the escorts do this too. Not everything is possible, but everything can be discussed. I suggested that she share her fantasy in a blog and Melody took full advantage of that. You can read it below and also admire the new photos of Melody in her profile.
Exploring the dark for escort Melody
"When I get a message that I will have a BDSM booking, I immediately feel a warm, nice tension in my belly. One of the things I like during a BDSM booking, is to be submissive to a dominant man. The evening will start very respectfully, as with any other booking. We have a drink together, get to know each other and we laugh and we flirt. In the course of the conversation, the topics get more naughty and we find out from each other what we like and where our limits are for the BDSM game that we both are very much looking forward to. Mutual respect, understanding and communication are the most important things. The more we are familiar with each other and the better we click, the more we can let ourselves go during the game. It is also important that we agree on a safeword, for example the word "APPLE".
The kind of BDSM game I enjoy, is when I'm a little bratty at first and you treat me really strictly to show me that you are the boss. You are as strict as you need to be until I understand that you are in control, and that I have to do whatever you tell me to do without resistance, being sweet and submissive. After we have discussed everything extensively and know exactly what the do's and don'ts are, you give me a task. "Melody, I want you to stand up, turn your ass towards me, and lift your skirt so I can see how you dressed for me." I look at you, being shy and shocked. "Um, sorry, but I think this is a bit inappropriate," I say, "I can't just do this, can I?" You look at me with fiery eyes and say, "Melody, I don't care what you think is inappropriate. We both know that you are going to do whatever I say and what will happen if you don't."
You've challenged me and I'm starting to resist, "Well, if you're going to be rude and bossy like this, then forget it," I say, looking at you defiantly. Immediately you get up, walk over to me and take my chin with one hand pulling my face upwards so that I have to look you in the eyes in my sitting position with my face tilted upwards. You slap my cheek with your other hand. I look at you in a shocked way, but we both know that I enjoy it. We discussed that in advance and you know I would say "APPLE" if it would go too far for me. With fiery eyes you look down on me and order me to kneel on the floor while you take your seat in your comfortable chair. It is now clear that I will have to listen to you.
Submissively and quietly I sit on my knees in front of you and during the evening the game becomes more intense. You spank me, grab me by my hair to take me from your chair to your bed, you say dirty things to me and give me inappropriate commands. You let the little devil inside of you go loose, but you know that I enjoy it because we discussed that in advance. Plus, you have the reassurance that I would say "APPLE" right away if it would be too much for me or if I would want the game to end.
In the game, I can only obey and surrender myself to you and the submissive trance you gave me. When the game is over, we are extra nice to each other. We hug, kiss, gently caress each other and "make it up to each other". We talk about what we liked and we fantasize about what naughty things we will add to our game next time. When we say goodbye, I kiss you and secretly fantasize about how you will punish me next time, when I will have to confess to you how naughty I have been in the meantime..."
RELATED
CONTENT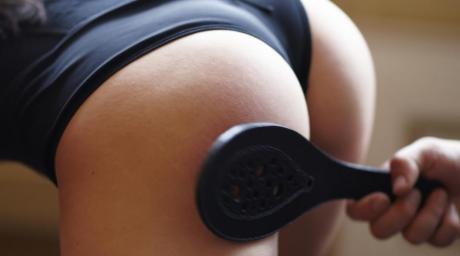 BLOG ITEM - 31 December 2019
BDSM with high class escort: everything you need to know Has BDSM always been a fantasy of...
READ MORE