Submissive and dominant BDSM with your escort
BDSM with high class escort: everything you need to know
Has BDSM always been a fantasy of yours, but has it not happened yet? Don't worry! Indeed, there are several high class escorts from Society Service that can make your dream come true. A large number of our escorts have experience in with soft erotic BDSM and are happy to introduce you to this exciting world. We have high class escorts available who enjoy BDSM in a more dominant position. We also have high class escorts available who prefer BDSM in a more submissive position. But before proceeding, it might be a good idea to do the necessary research first. Why? Well, BDSM is not exactly what you call: hallmark-looking-sex. Below we have listed five interesting facts, plus some guidelines! So you know exactly what you can expect during a booking and you can soon make your dream come true!
What exactly is BDSM?
The term BDSM originated in the early 1970s and represents five sexual practices: dominance and submission, bondage, sadism and masochism. The 'BD' in BDSM represents bondage and discipline, the 'DS' stands for dominance and submission, and the 'SM' represents sadism and masochism. BDSM includes many non-normative sexual practices that are completely dependent on chemistry between both parties. Some of the popular BDSM practices are tying each other up and blindfolding each other, experimenting with fetishes such as latex and transvestism, spanking, whips, paddles and nipple clamps, but also anal sex and golden showers are part of BDSM. Still interested? Below some tips for BDSM beginners.
Communicate with your BDSM escort
Whether you have assumed the dominant role, or the submissive, it is imperative to communicate openly with the high class escort from Society Service. Hereby it is important that you respect and understand the others' needs and desires. You may be interested in a certain activity, while the escort is interested in a completely different one. That is why it always helps if you are open about things. Mutual understanding and mutual chemistry is not without reason the key to a great BDSM experience.
Start with very soft erotic BDSM
Take small steps in the beginning and never rush things. Start with a different sexual activity than what you are used to. Once you are comfortable with these new practices, you can gradually try out more complex activities. In the beginning it may feel a bit strange, but as you experiment more and more, the good feeling starts to come naturally. Ideally, you book the same high class escort for multiple bookings, so that you can build up to BDSM activities that you both enjoy in full confidence.
Explore your sexual fantasies with the high class escort
Not every sexual activity is successful. Therefore, think carefully about what type of component you are satisfied with. Investigate calmly in which discipline how you feel most comfortable. If you are unable to determine this yourself, try figuring it out together with the more experienced high class escort from Society Service. Sometimes, the things that you have fantasied about the most turn out to be a bit of a disappointment in real life, and are better of left as a fantasy. Having said that, by experimenting with your high class escort, you can find things you enjoy that you had not thought about before and turn out to be amazing as a fantasy as well as in real life.
Set clear boundaries for everything
It is very important to clearly establish all the limits in advance. In the heat of the moment you never know exactly what you can do with the other person, and vice versa. It is therefore absolutely essential to set limits before the play starts. As soon as you have clear agreements about the activities that are being carried out and how far you can go, you will have every opportunity to fully enjoy your time together. During a BDSM play, regularly ask how your BDSM partner feels. It is possible that the boundaries are shifting in the process. You can do this for example by using colors. If your BDSM partner indicates that a certain action is "green", the action is soft. If an action is "orange" then this is perfect. If the action is "red" you have reached a limit of your BDSM partner. You must now be very careful not to exceed it. Always agree on a stop word. As soon as someone in the BDSM play uses this stop word, the entire BDSM play must be stopped immediately.
Trust your BDSM partner
It is imperative to trust your partner. Before you start with BDSM, you must be absolutely certain that your BDSM partner is not going to do anything which you do not agree with. After all, trust is the basis of BDSM. This type of trust is something that does not always happen overnight. It can take a bit of time. Is the high class escort not yet comfortable enough? Then never push, or you will ruin any trust relationship that has been established. Needless to say, knowingly crossing boundaries of the escort for your own personal enjoyment will result in immediate termination of the booking.
Guidelines from BDSM escorts
Only soft erotic dominant BDSM is possible, as part of the booking. It should not be the sole focus of the entire booking.
There are no extra charges involved to make your special fantasy come true. However, a minimum booking of three hours is always required. Some requests require a certain trust relationship and are therefore not te be expected on a first date. Sexuality is not only very personal, it heavily depends on the mood and the person. Aside from full commitment to a mutually enjoyable and special encounter, no absolute guarantees therefore can be made.
No unsafe sex of any kind.
When your fantasy requires a special item or outfit of that the escort does not own, you will be asked to purchase this and bring it to the booking.
You can not tie up the submissive escort without the escort being able to free themselves at any time.
You can not blindfold the submissive escort without the escort being able to remove the blindfold at any time.
Actions which leave marks on the submissive escort are not allowed.
When you have seen the escort several times before, you can invite the escort to a Luxury BDSM location or kinky fetish party.
RELATED
CONTENT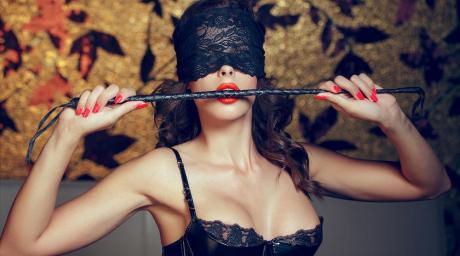 BLOG ITEM - 13 June 2021
Ask your high class escort to bring our naughty BDSM box At our high class escort service...
READ MORE