The experiences of a client
A client of our high class escort service talks about his experiences
We are always happy to receive feedback from clients. This is an important tool in perfecting our services. For example, suggestions from clients have regularly resulted in adjustments to our escort service. In addition, clients regularly share feedback about the escort they have recently met. This gives us a better picture of both the client and the escort, which benefits our matchmaking skills.
A while ago we received an email from a relatively new client at the time. Whether we appreciated it if he contributed to a blog about his experiences with bookings with us. Naturally we were excited. Every client is unique, that is exactly what our escorts love about their work as a high class escort. However, the experiences of this particular client can make a valuable contribution to other clients who are considering booking a high class escort.
How I prepare for my booking with a high class escort
"Booking a high class escort at Society Service is always a wonderful experience for me. I really enjoy creating a very nice evening together with high class escort in which she is center of my attention. To ensure that the high class escort and I are the right match, I personally contact Society Service for every booking and receive personal advice on which high class escort is the match.
My favorite booking is a Dinner Date. My Dinner Dates take place in the city where I grew up, so I feel at home and relaxed. In preparation for my date, I carefully read the profile of the high class escort several times and look for a hotel in the center of the city that suits the high class escort. In terms of restaurant, I like to find a wine bar/wine restaurant that fits my date's profile and that is within walking distance of the hotel.
After booking the hotel and restaurant I start thinking about how I can spoil the high class escort with nice surprises. A beautiful bouquet of flowers, which I get from my favorite florist, surprise the high class escort every time. In addition, I also like to get a bottle of wine or champagne at the local wine shop and I make sure that I get chocolates and/or strawberries from my favorite shops as an aperitif snack for the hotel room.
The drinks and snacks are, in addition to the bouquet of flowers, a gift for the high class escort. If we don't finish them, I'll pack it nicely so that the high class escort can enjoy it the next day."
My experiences during a booking with a high class escort
"When I arrive at my hotel room, I make sure there are two wine glasses and a vase in the hotel room. I have my bouquet of flowers put together, I pick up the snacks from my favorite stores. Once back in the hotel room, I place the bouquet flowers, wine or champagne and snacks on the table.
An hour before my booking I freshen up by taking an extensive shower, brushing my teeth, using deodorant and spraying on deodorant and my favorite eau de parfum. After this ritual I put on my favorite suit and walk to the agreed location and we walk together to the wine bar / wine restaurant. During this walk we get to know each other in a relaxed way.
In the wine bar/wine restaurant I let the high class escort set the pace. Getting to know the high class escort is an important and especially fun part of the date for me. When the high class escort wants to go back to the hotel, I pay and we walk back to the hotel.
Once at the hotel, it's fantastic to see my date's reaction when she sees the bouquet of flowers, the wine/champagne and the appetizers. I put on some music and ask if she would like a glass of wine/champagne. I also let my date determine the pace of the intimate part of the evening. The evening revolves around her and when I see her happy, I am happy too.
At the end of the booking I give the high class escort time to freshen up. I pack the wine/champagne and the appetizers that are left for her. I thank her for this beautiful date and we give each other a kiss. The next day I send Marike an email to share my experiences."
RELATED
CONTENT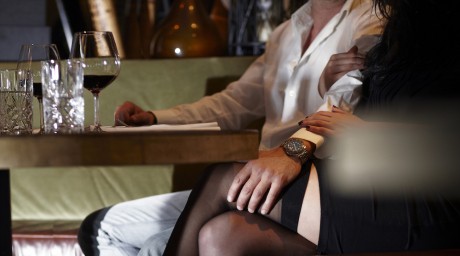 SERVICE ITEM - 9 August 2023
Our exclusive escorts are elegant, intelligent, discreet and very charming company for Din...
READ MORE