The couple about high class escort Nina
A couple invited high class escort Nina to a swingers club
In our previous blog Nina already told about her very first experience with a couple and then also in a swingers club. It was already clear that our high class escort Nina from Rotterdam had had a great time. Fortunately, this was completely mutual.
After reading Nina's nice blog, the couple got inspired to share their experiences with Nina in the swingers club. Make sure you are sitting down, because quite a few spicy details are shared. Perhaps these will inspire you too.
As a couple we invited bisexual escort Nina to a swingers club
"For her it was the first time with a couple and for the first time to a Swingers Club. We have been booking a pleasant and exciting lady at Society Service for a few years now to join us at one of the Swingers Clubs that we visit. A booking has a few important advantages. As a couple you are assured of stylish, sexy company that does everything to make you feel comfortable. For the female half of the couple (my wife) it is nice that she doesn't have to worry about other couples or ladies if she doesn't feel like it. The escort of Society Service is entirely at the service of the couple who booked her. And it is also a real party for the male half of the couple. Besides my own wife, I spend the evening with a beautiful young lady who is sexy and sweet, but with whom you can also have a great conversation.
Nina is such a talent. She has a body that proves to Mother Nature that she was in top shape on the day of Nina's production. Beautiful breasts of XXL size (yes, everything pure nature), deep green eyes, velvety lips (no, softer than that) and an ass that will leave you unsettled for weeks. She is waiting for us, as agreed, at the entrance of the Swingers Club and immediately I feel a lot of greedy eyes around me. Only couples are standing in line here. I'm standing here with two beautiful 'hunting trophies', ready to conquer the evening. I see that many eyes have already opened the imaginary hunt. In vain as far as Nina is concerned, because she is really there for us tonight.
Once at the bar, it's always a matter of settling in and exploring each other. Verbal, but also physically because I can't keep my hands off those amazing round buttocks. They radiate out into the world like two planets screaming to be discovered. My wife inquires about her age (I made the booking and I had kept the age to myself for a while….) and when Nina tells her she is 22 (three years younger than our own daughter..) I see my wife in doubt for a moment, but she quickly gets over the thought. What does age mean in a person's life and especially on such an evening? Her age is not an issue for me. It didn't matter for the rest of the evening either, because Nina behaves wisely and consciously, not like a 22-year-old brad. She talks about different subjects, takes initiative and she hides an ocean of irresistible eroticism. More and more often she gives you a look at the waves.
Nina is super sexy without ever getting raunchy. Stylish and Stimulating, both with a capital S. If you had to write a profile for the ideal lady from Society Service, she would fit this profile. Nina oozes sex, you can feel the eroticism hanging in the air every now and then. Tension naturally builds throughout the evening. Very relaxed. No race against the clock, but without a sense of time drifting into the night together on a cloud of sex and eroticism.
We visit different sex areas, the jacuzzi, the darkroom and we dance horny on the dance floor in lingerie while we touch each other's bodies and French kiss. Two women in the jacuzzi, one of which is 22 years old, makes the party complete for me. Art: Putting both on their knees on the edge of the pool with the ass up in the air. My tongue attacks like a calf's on a full manger. Around me again those greedy eyes of couples. As he leaves the jacuzzi, a man just mutters intelligibly: "Look, there goes Hugh Hefner".
Nina knows how to divide her attention between my wife and me. The first one still wins on points, which is logical, because in this branch of sport the following applies: if the woman is having a good time, then the man is too. The other way around is definitely not done. Nina understands that well and ensures that my wife is not short of anything. She discovers us and the Swingers Club like a naughty princess wants to discover every turret room of the great castle.
We had a wonderfully exciting and relaxing, horny and erotic long evening with Nina. For anyone who may have doubted whether or not to choose her: I say 'Do it!'"
RELATED
CONTENT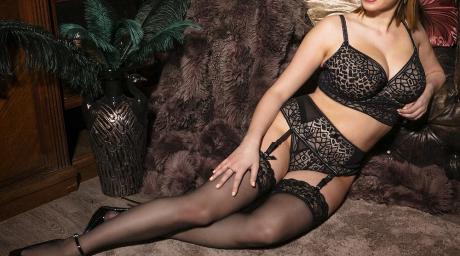 BLOG ITEM - 1 May 2022
High class escort Nina had her first booking with a couple in a swingers club An important...
READ MORE