Escort Nina and the couple in the swingers club
High class escort Nina had her first booking with a couple in a swingers club
An important part of the motivation to work as a high class escort is the opportunity to further develop sexuality and try new things. High class escort Nina from Rotterdam, for example, had been fantasizing about bisexual experiences for a long time. There she got a crash course in…
A couple who regularly books an escort with us asked us if we knew a nice lady for that weekend to go to a swingers club. Normally we wouldn't throw an escort with little bisexual experiences in the deep end, but with this couple we knew that our escorts were in safe hands with them. In fact; that the escorts enjoys the time together at least as much as the couple. In this blog escort Nina tells about her special experience.
High class escort Nina on a bisexual exploration
"Tonight it's finally time: my first couple booking! I'm really looking forward to it, and that's why I start getting ready for the evening extra early for this booking. After an extensive shower I take plenty of time to relax I apply a nice body lotion, get my hair and make-up done and put on one of my latest lingerie sets, a little red lipstick and of course my favorite perfume from Chanel and I'm ready for the evening.
Once on the road I feel more and more excited, and tension slowly builds up in my whole body. When I arrive at the swingers club where we have arranged to meet, I quickly recognize the couple. "They look so nice" is the first thought that crosses my mind and I feel myself blush a little when I introduce myself. The connection is instant, and we immediately have pleasant conversations in which I here and there playfully and flirtatious look into her eyes. When I take off my coat I see his eyes go from my neck to my cleavage, and he says to his partner: "wow, those are completely real". I'm flattered.
At the bar we order drinks, and we talk about all sorts of things and then runs his hand over my ass and her leg, and I notice that my thoughts are going in a certain direction. Then it's time to take off the clothes, and more and more people around us are getting into their lingerie. We have also changed outfits, and in no time we are dancing with the three of us. While he is getting something to drink, two ladies next to us start to kiss, which of course generates a lot of attention. "Shouldn't we also let some men watch?" I whisper in her ear and we begin to kiss and dance together intimately. I turn and move my ass against her to the beat of the music, and we both laugh.
By now all three of us feel like going to the swimming pool, and before we know it we are lying next to each other in the delicious bubble bath, where there is no one at all at the moment. I enjoy watching them interact with each other. When I'm kissing him I look at her with a horny look and I motion for her to join, after which the three of us touch each other everywhere and become more and more intimate. After the warm bubble bath it's time to spoil her with a wonderful massage. First I run my hands all over her body, then more and more to the sensitive areas.
I notice that she is enjoying herself more and more and letting herself go, which for me is the sign to grab a vibrator. He and I are completely absorbed in her, and I find it super exciting to watch their delight. In the next room people are already busy having sex, which makes me even more horny, and I think them too. As we explore each other's bodies in the dark space, the space becomes increasingly crowded and we are watched. I sit on top of him, moving to the rhythm of the other guests who are clearly having fun too. For a while we go to another room, where we continue in the same way and the temperature gets hotter and eventually all three reach our climax. After this we have a nice drink and we talk some more, and then it is time to say goodbye. After a kiss I thank them both for an exciting evening that I will not soon forget…"
RELATED
CONTENT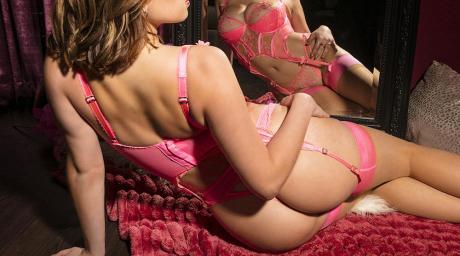 BLOG ITEM - 6 May 2022
A couple invited high class escort Nina to a swingers club In our previous blog Nina...
READ MORE