The fantasies of our high class escorts
Our high class escorts also have naughty fantasize
Did you know that the high class escorts of Society Service have naughty fantasies? Although these fantasies vary from escort to escort, many of our ladies share the same fantasies. If you want to know exactly what these secret fantasies are, read on. Perhaps the escort will soon take her steps and bring her fantasy into reality with you!
Sex in public
A fantasy that high class escort Celine from Rotterdam and high class escort Felice from Amsterdam share is having sex in public. Celine even goes one step further. To her, it seems particularly exciting to even risk getting caught. Felice in turn mainly fantasizes about having sex at an erotic or kinky party. Do you share the same fantasy with Felice's in particular? Then schedule a booking with Felice and then take her to a kinky party soon.
Visit an erotic party
While they may not all go as far as our high class escort Felice by having sex at a kinky party while she's being watched, Beau, Daisy, Lexy and Lauren all share the same fantasy. They all find it super exciting to visit a high-end erotic party. Do you, like these ladies, find it exciting to visit a high-end party? Then book one of these ladies and then take them to an erotic party. Undoubtedly, both the escort's dreams and your own will soon come true.
Experimenting with kinky fetishes
Ask our high class escorts Taylor, Jane and Elise what their wildest dreams are and they all say try out new positions, fetishes and other naughty experiences. This can vary from naughty outfits to unusual sexual acts. If it's your fantasy to try out kinky fetishes like these ladies, then see which lady appeals to you the most. Perhaps Taylor, Jane or Elise will soon be with you in your hotel room wearing a latex dress, ready to give you a sexy footjob or experiment with another naughty fantasy.
A threesome during a bisexual booking
A fantasy that is very popular among the high class escort of Society Service is to further explore their bisexual side and gain experience with threesomes. If Amber, Britt, Jasmine, Chloe or Noah appeal to you and you think: I think it would be fantastic to experience a Bisexual Duo booking with two of these ladies, then visit the profiles of these ladies. There is a good chance that you will soon, in addition to that of the escorts, simultaneously make your own fantasy come true.
Voyeurism and Exhibitionism
A well-known fantasy is that of watching (voyeurism) or being watched (exhibitionism). For example, high class escort Alice from Amsterdam has a fantasy to explore voyeurism and to watch a man having a threesome with two escorts. High class escort Sophie finds it exciting to be watched during sex. It might be good to ask yourself what you find exciting. Perhaps you will soon be watched by Alice while you share the sheets with Sophie in the meantime.
Sex with multiple escorts during an orgy
A fantasy shared by Valerie, Emma, Lily and Carmen is to have an orgy with at least 3 other escorts from Society Service. If you would like to see these fantasies come true, visit the profile of these ladies and book them for what will undoubtedly be the night of your life.
Experimenting with BDSM
Do you feel the desire to be tied up or do you prefer to tie up your partner? Then book high class escort Maxime, Vivienne or Esmee and immerse yourself in the world of BDSM. Check out the escort's profiles to see which role the ladies prefer to take on and then see which fantasies best match your own: the dominant or the submissive role.
RELATED
CONTENT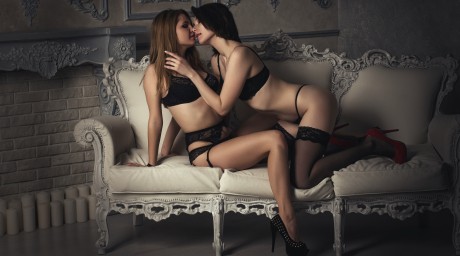 SERVICE ITEM - 30 May 2023
The number one fantasy of every man: A threesome with two bisexual ladies! Available at a...
READ MORE