Do's and don'ts during a bisexual duo booking
The do's and don'ts of a duo booking with two (or more) high end escorts
A trio with two beautiful bisexual escorts is high on the wish list of many clients. It therefore comes as no surprise that our high end escorts are regularly invited together for a booking. When two or more escorts visit a client together, we call this a duobooking. This is not only a great experience for the client, our high-end escorts also enjoy it immensely. For your convenience, we provide an overview of the escorts that are available for a bisexual duo booking and you can calculate the (discounted) rate for this with the calculator. In addition to this, we have formulated a few extra do's and don'ts that we discuss here.
Selecting two bisexual high end escorts
Although the majority of our high end escorts are bicurious or bisexual, not all combinations are a great success. We therefore advise against selecting two escorts for a duo booking without any suggestions. Perhaps the two escorts are exactly your type, but that does not mean that the two escorts together are also the best match. We advise you to let us know which escorts appeal to you the most. We can then inform you which escorts are the best duo matches. It is also possible to select a favorite escort that you definitely want to book and ask who her favorite duo partners are. In these ways, success is guaranteed and a spectacular bisexual duo awaits you!
Arrival and departure of the high end escorts
In principle, the escorts arrive and depart simultaneously. Only then are you eligible for the duo discount. We occasionally receive requests where the first escort arrives at a specific time and the second escort arrives an hour (or two) later. This is not possible because this is very uncomfortable for the escort who arrives second. After all, she arrives in a setting where a certain build-up has already taken place between two people. In addition, these types of requests are often made with the intention of spending as much time in the bedroom as possible. Such an intention does not reflect the experience that our high end escorts offer and is therefore not possible. It is also not possible to extend the time with only one escort during a duo booking. This is insulting to the escort who is not asked to stay longer. If you develop a preference for a particular escort during your duo booking, you simply invite this escort again for a new booking. This way you remain respectful and a gentleman. But what is possible with regard to the arrival and departure of the high end escorts? The aforementioned scenarios mainly apply to shorter bookings. When you spend a little more time with your favorite high-end escort, it is possible to invite a second escort for a shorter duration. For example; you spend a whole day with your favorite escort. The second escort arrives after your dinner and while enjoying a glass of champagne you and your favorite escort take the time to get to know this escort and to build a certain atmosphere. A few hours later you say goodbye to the duo escort and spend the rest of the booking with your favorite high end escort. In this scenario, a different arrival and departure time is no problem at all. After all, the comfort of the second escort escort is guaranteed and the intention behind this situation is significantly different.
Eroticism with two high end escorts
When you share the bed with a beautiful woman, it can be a challenge to ensure that both enjoy the erotic togetherness intensely. This challenge naturally increases when you spend time with two beautiful escorts. However, we can reassure you. Just like with a 'normal' escort booking, you will notice that everything goes very smoothly and feels very natural. There will be a relaxing build-up to an increasingly sensual setting and you can assume that the two escorts also take the initiative to not only have sex with you, but also with each other. For an extra spicy experience, you can ask the escorts to use some toys. Note, however, that everything remains safe. Fingers, sex toys, condoms, etc. are washed and replaced when they come into contact with another person.
RELATED
CONTENT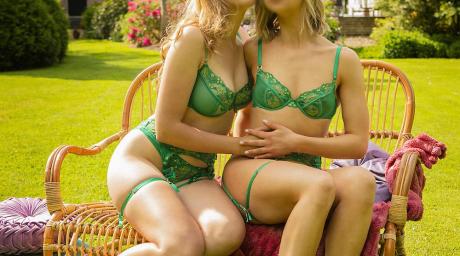 BLOG ITEM - 26 July 2022
The most summery bisexual high class escort duos Temperatures have risen quite a bit in re...
READ MORE