Summer bisexual escort duos
The most summery bisexual high class escort duos
Temperatures have risen quite a bit in recent weeks. However, the question is whether the temperature or our beautiful high class escorts will make you feel warm. During our recent outdoor photo shoot we put together two nice duos. For a romantic duo, book high class escort Daisy from Rotterdam together with our new escort Grace. Could it be a little more fiery? Then Amsterdam high class escort Emma and slim brunette escort Chloe are a good choice for a spicy, naughty and kinky duo.
Our photographer took some nice pictures of the escorts, but we also took some nice shots behind the scenes. If these do not appeal to your imagination enough, you can also read what the aforementioned escorts have in store for you.
High class escort Daisy from Rotterdam
"During the photo shoot I met Grace. A radiant appearance with a beautiful face and sparkling green eyes. We turned out to have the same green lingerie set, a good reason to take a picture together. Well that was certainly quit the treat! Perched on the bench in the garden we looked at each other laughing, but gradually our gaze grew more sultry as we caressed each other. Her skin felt so soft under my fingertips. Meantime my mind wandered to possible adventures I might have with Grace. I already had the privilege of being invited on a date with one of my fantastic colleagues several times. The best thing is to go out to dinner with the three of us first. What man wouldn't want that; extensive dining with two beautiful ladies by his side. But let's continue with my fantasy, which was sparked by the beautiful Grace. After a delicious dinner together, the three of us arrived at the hotel room. You sit in the middle on the sofa with Grace on one side and me on the other. I alternately look you and Grace in the eyes. Then I bend over slightly and kiss her lips, stroking her face with my left hand. 'What a beautiful view you will have' I will secretly think. Then I pull back and watch Grace press her sultry lips against yours. While you enjoy each other I slowly take off Grace's dress. Her beautiful body shrouded in sexy lingerie emerges. A wonderful evening has begun where the three of us enjoy and love each other as if this exciting adventure will never come to an end."
New escort Grace enjoys experimenting with women
"I had no experience with a duo shoot yet, but I am so happy that this first experience has been with Daisy. Daisy is the ultimate GFE for a reason! I've kissed a woman once. Experimenting further with a woman seems exciting, fun and delicious at the same time. Women know what they enjoy with other women. Eroticism can be more passionate, sensual and intimate. It's about pleasing each other and having fun, both inside and outside the bedroom. A setting in which all these elements come together guarantees an unforgettable experience."
Escorts Emma and Chloe share together
"Sometimes you see a colleague appear on the website where you are interested and where she speaks to you from the first moment." When Emma first met her colleague Chloe and they had a booking together, it turned out that in reality they liked each other even more than expected. "My heart skipped a beat. Because oh Chloe is so beautiful, sweet, intelligent but also incredibly humorous. I enjoy all the moments I have with Chloe. Not only are the duo bookings fun, but we also got to play together for a while during the outdoor shoot. Because Chloe and I are such a good match, you will notice this throughout the booking. Sparks are flying." Chloe is happy to explain to you what is so special about booking with Emma and her. "Emma and I have been on the road a few times. We've already role-played and got to give away a nice lingerie show. But what we haven't had yet: A BDSM duo booking. Emma and I have the same latex suit, which It also looks great. It fits super tight, which makes it very sexy. Just look at her bum, Emma has a beautiful body and she works hard for it! I can't take my eyes off her… and neither can my hands." Chloe and Emma are both not very submissive but they do liberate this side in each other. They want to grab each other, tie each other up, spank each other on the buttocks and much more. Perhaps the ladies will soon be able to tell you how these fueled desires worked out in practice. Are you in?
RELATED
CONTENT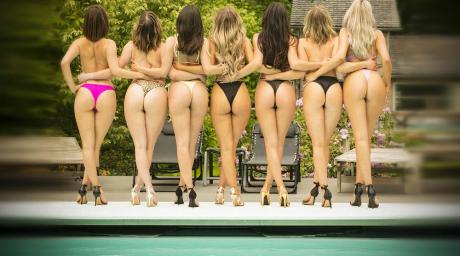 BLOG ITEM - 2 July 2022
The annual outdoor shoot of our high end escorts is online For two years in a row we were...
READ MORE