Beautiful curves... Butt or boob man?
Are you a butt or boob man?
Although the high class escorts of Society Service all have the overall package, we assume that your choice for your dream woman is largely determined by your specific preferences. During your search, for example, do you pay particular attention to her face, the color of the eyes or the way in which her mouth is formed? Or do you mainly look at her body? Whether she is tall, petit, or more specifically: whether she has a nice round butt or full breasts? With regard to the latter; it is a question that you may have been asked before and to which you undoubtedly know the answer to: "Are you a butt man or are you primarily a boob man?" It is a topic that occupies many of us, but what does it actually say about someone when he is a butt man or a boob man? Below the result of a brief investigation.
Butt man
Research has shown that the desire for big butt goes hand in hand with the need for order and organization. Men who have a preference for a large derriere also seem to work hard and organize their lives as structured as possible. The butt man therefore has a clear urge to perform. Descent and upbringing also play a significant role. For example, in 60% of cases, Argentinian men prefer a large butt over large breasts, while British men, on the other hand, generally don't fancy a big butt. Do you call yourself a butt man? In that case we would like to introduce a number of ladies to you. Society Service has a number of high class escorts who have a beautiful large round butt. What to think of Elise, at first glance a typical Dutch girl who is highly educated, carries a youthful appearance and has a very good sense of humor. But what really sets Elise apart is her fantastic big butt. Ladies who also have a beautiful larger butt are Nicky, Lilly and Natalie. A butt so beautifully firm and round, anyone who is still in doubts about his preference for a big butt or breasts only has to take a look at these beautiful curves once and he will know: finally, I have decided!
Boob man
Just like butt men, boob men have a number of special characteristics according to the study. For example, breast men generally seem to read a lot of sports magazines, have a craving for attention and like to be the center of attention. In addition, boob men find independence a very important asset. Another important finding that emerged from the study is that boob men usually have a weakness for addictions. Anyone who agrees with this research and is about to book a high class escort with Society Service, we would like to expressly warn! If you book a date with incredible beauties like Jane, Valerie, Freya or Lisette, you can only conclude one thing when you see such beautiful round breasts: oh dear, I am addicted!
The best of both worlds
Still unable to choose between a beautiful round ass and large breasts? No worries, we've got you covered. Several of our high class escorts have the best of both worlds, so make sure to check out the profiles of the stunning Jade, Valerie, Sofia and Julia. Whichever lady you choose, you will undoubtedly spend an unforgettable time with her. Our high class escorts excel on more fronts than breasts and butt, as we wrote earlier; the total package!
RELATED
CONTENT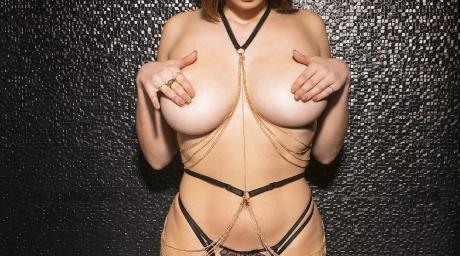 BLOG ITEM - 8 December 2022
The largest breasts at our high class escortservice Are you looking for a high class...
READ MORE