Very busty high class escorts
The largest breasts at our high class escortservice
Are you looking for a high class escort with large breasts? Society Service has a wide variety of escorts: escorts with a large booty, escorts with long legs and therefore certainly high class escorts with big breasts. Would you like to know which high class escorts from Society Service have a large bust? Then read on. In this blog we introduce some of them to you.
Nina, ultra busty high class escort in Rotterdam
Are you in Rotterdam and are you looking for a high class escort with big breasts? In that case, Nina is definitely the escort you are looking for. This sexy lady in her early 20's has brown hair, green eyes and the most amazing big breasts you will ever see in your life. Her cup size is 30H and also pure nature! Are you interested in this bisexual escort and would you like nothing more than to see some photos of her? Then take a quick look at the profile of high class escort Nina.
Daisy, an other high class escort with large breasts in Rotterdam
Perhaps there is something special in the tap water in Rotterdam, because high class escort Daisy also has beautiful large breasts. Her natural 32E cup fits her slim and tall figure beautifully. Coincidentally, escorts Nina and Daisy find each other very attractive and a joy to be around. Do you fantasize about intelligent ladies with naturally large breasts? Then a bisexual duo with these two high class escorts is a must.
Sophie, busty high class escort in Den Bosch
Are you in Den Bosch and would you like to book a high class escort from Society Service with natural big breasts? Perhaps Sophie is the escort with whom you will experience the evening of your life. Sophie is a great companion. She has long brown hair, a pretty face and really amazing big breasts (cup size 32E). Are you curious about Sophie? Then take a look at the profile of high class escort Sophie. Here you can already get an impression of how great her natural breasts are, but also how beautiful her other (personality) features are.
Jane, high class escort in Eindhoven with large breasts
Incredible but true; not everyone fantasizes about natural big breasts. For some, nature can be given a helping hand. The full firm breasts on a slim body often give a very sexy look. Does this look appeal to you? Then take a look at the profile of high class escort Jane from Eindhoven. Jane is known for two specialties: her special talent for squirting orgasms and her fantastic bosom (cup size 34D) with which she is more than happy to seduce you with.
RELATED
CONTENT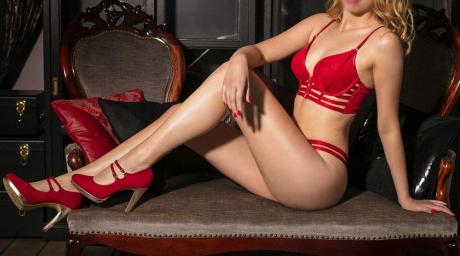 BLOG ITEM - 31 October 2019
High class escorts with long legs Just as there are clients with a preference for breasts...
READ MORE