A high class escort during your layover at Schiphol
Book a high class escort during your layover at Amsterdam Schiphol Airport
The largest airport in the Netherlands is near Amsterdam: Schiphol airport. The airport is visited by many travelers during a transfer between flights. And what better way to recover from your flight than in the company of a beautiful high class escort?
In this blog we will tell you how to book an escort with our high class escort service during your transfer or layover at Amsterdam Schiphol Airport. We also give various suggestions and tips for during your transfer.
Minimum duration of your layover at Schiphol
At our high class escortservice we require a minimum booking of 2 to 3 hours, depending on the high class escort you have chosen. A longer minimum booking may be required if you wish to start your booking outside our opening hours (10:00 - 22:00) or if the escort requires this, for example due to travel time. You will also need time to leave the airport and check in at a hotel and to return to Schiphol in time for your flight after your booking. On the website of Amsterdam Schiphol Airport you can see what the expected crowds are. If you have already booked with us in the past few years or if you are a new client willing to pay a deposit via bank transfer, the minimum required layover is 7 hours. In other cases, a minimum transfer requirement of 8 hours will be required to use our high class escort service.
Stay for your escort booking near Schiphol Amsterdam Airport
There are several hotels available near Schiphol Amsterdam Airport. Our high class escorts cannot visit hotels located in the terminal of Schiphol and only visit 4 or more star hotels. That is why the Hilton and Sheraton hotel are often the best choice. These hotels offer the possibility to arrive and depart outside the regular check-in and check-out times.
In addition to a hotel, it is also pleasant to book a private wellness center for you and your high class escort. The warmth of the sauna, the steam of the bubble bath and the wonderful erotic massage by our high class escort will allow you to relax after a long flight. Our favorite private wellness locations near the airport are Spa Mystic, Spa Nova Hoofddorp (Unit 1, 2 en 3) and Spa Mamounia.
Lunch and Dinner Date with your high class escort near Schiphol Amsterdam
Do you have some more time available? Then it is of course very nice to start your booking with an extensive lunch or romantic dinner. The region around Schiphol also offers quite a few options in terms of culinary indulgence. For your dinner date with our high class escortservice, the reduced dinner date & overnight rates often apply. On our dinner date page about Amsterdam you will find a section especially about suggestions near the airport. Our personal favorite is Michelin-starred restaurant Aan de Poel. At the Kruidfabriek you can put together your own package and you can also enjoy a delicious meal at Qunis.
RELATED
CONTENT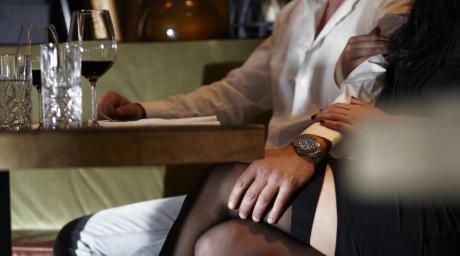 BLOG ITEM - 19 June 2015
Which restaurant to go to with your escort in Amsterdam? Dinnerdates are among the most po...
READ MORE