Restaurants in Amsterdam
Which restaurant to go to with your escort in Amsterdam?
Dinnerdates are among the most popular types of bookings at our high class escort service. And with many of our escorts based in Amsterdam, it is no wonder many dinner dates are in Amsterdam. Most clients however, are not from Amsterdam or The Netherlands at all and request our assistance for the selection of a nice restaurant in Amsterdam that is suitable for a dinner date with an high class escort. To simplify this selection, we have some advice for you.
We prefer that you make the reservation yourself at the restaurant. In our opinion, this is first of all more discreet, you can then choose which personal data you provide for the reservation. Also, this makes you responsible for communicating any changes to the reservation. Finally, more and more restaurants require a deposit or credit card guarantee to complete the reservation. Obviously we cannot provide these these. That said, you are free to ask for our assistance with making a reservation. After all, we are here to assist you with all aspects of your booking with our high class escort service.
General Amsterdam restaurant advice
The Netherlands used to have its own review website for restaurants in the Netherlands, called IENS. This site was a very reliable and helpful website for selecting a restaurant. However, the website has since been taken over by TripAdvisor and not everyone is satisfied with the reliability of this platform. In addition, there are now many other platforms on which reviews are left, such as Google, Yelp and more. You are free to use the review platform that best suits your needs.
Our favorites in Amsterdam
Like our high class escorts, we also enjoy the finer things in life and fine dining is certainly one of them. We will share some of our personal favorites in Amsterdam with you. Please keep in mind it's just a suggestion, there is no cooperation of any kind between the Amsterdam restaurant and our high class escortservice.
Luxurious fine dining: Like any major world city, Amsterdam offers several fine dining options. Most of these restaurants are described as contemporary, modern cuisine, mostly French with international influences. Going there is an experience on it's own and I would strongly suggest to extend your dinner date to at least a 7 or 8 hour dinner date, or even better a long overnight, so you can enjoy their finest menu digestive. It's safe to say all restaurants who hold a Michelin star (or more then one) are great choices but our personal favorites are The White Room, Vinkeles, Rijks, 212, Flore, Spectrum, De Kas, Mos and Bridges. Like with our high class escorts, advance bookings are recommended.
Easygoing atmosphere with great food: When you are looking for a less posh setting but a more comfortable and easygoing atmosphere but don't want to compromise on the quality of the food, Lizboa, De Juwelier, Singel101, Utrechtsedwarstafel, Sinne, Baut Oost, Auberge Jean & Marie, Cafe Caron, Elkaar, Le Restaurant, Senses, The Livingroom by Bodon, Brasserie Ambassade, Grahams Kitchen and Rons Gastrobar are the place to to. There restaurants all offer well above average dining, but in a setting that's less posh then the luxurious restaurants as described above. In particular for our Virgin Experience clients, we can imagine this is a preferred choice as the atmosphere is slightly more relaxed and easygoing.
Trendy and cool dining: Want to feel like a superstar for a day? With the most beautiful date on your arms? Then check out one of the more trendy dining options Amsterdam has to offer: Maris Piper, Moon, Daalder, Graphite, Lion Noir, Satchmo, The Duchess, Le Garage, Mr. Porter, MOMO's and Supperclub. In addition, Supperclub offers a trendy dining show. Please do keep in mind not all of our high class escorts will want to visit these Amsterdam hotspots out of discretion reasons. Since these are the type of restaurants her friends will most likely visit as well, she might be a bit hesitant to visiting with a gentlemen with who she would like her rendezvous with to remain discreet.
Amazing Italian restaurants: Our escorts are all asked for their favorite cuisine and many list Italian as their favorite cuisine. By "Italian" the escort means fine Italian dining and not just a pizza or pasta. Amazing Italian restaurants in Amsterdam are La Fiorita, Bussia, Incanto, Ciro Passami L'olio, Enoteca Pepe Nero, Pianeta Terra, Toscanini and Segugio. They offer fantastic traditional and not so traditional Italian dishes, from salade caprese to saltimbocca.
Typical Dutch food: For fine Dutch dining we recommend De Zilveren Spiegel, Bolenius and Floreyn. However, in general Dutch cuisine is rather basic and therefore some restaurants with Dutch cuisine will not qualify as a dinner date, due to the casual nature of the restaurant. Combine your dinner at Moeders or Wilde Zwijnen with cocktails at Bar Oldenhof and you're up for a great all Dutch evening. Dutch dishes are mostly stews with potatoes and the Dutch tend to eat everything that's on their plate. But with most escorts preferring to keep their figure and with the activities in mind that will follow later in the evening, please do not mind her leaving a part of her dish unfinished. It means she's being considerate to you and not a discontent of the dish. If it where just her, she'd most likely finish the complete dish and order five different deserts.
The best Japanese restaurants: Another popular cuisine amour our escorts is Japanese. From amazing sushi to traditional Japanese cuisine, Amsterdam has it all. For the best Japanese restaurants go to Yamazato, Hosokawa and Mchi. If you are looking for a traditional dining experience then Yamazato is most likely the best option, but only go there if you're willing to only go for the best and enjoy their 8 course seasonal menu, which is amazing, to say the least. When going for this option a longer dinner date is recommended, you'll need it and want it!
Vegetarian options: Worldwide, approximately 5% of all people are vegetarian, so chances are you or one of our escorts is vegetarian. Most of the finer restaurants and Indian restaurants will offer at least a few vegetarian dishes but there are also restaurants focussing much more on vegetarian cuisine. Our favorite finer dining options are Bolenius, De Kas, Rijks and Flore. Looking for a more casual setting? Then Jerba, Bak, Betty's and Meatless District are excellent choices.
Special requests for Amsterdam
There are situations where a regular recommendation just won't do. You are experiencing difficulties finding the perfect place for your request and need our help? Well here are the answers to the most common requests.
A fantastic place for lunch: Even though the reduced Dinnerdate Rate does not apply to lunch and therefore the Private Date Rate applies, it's a common way to start a booking around noon. A girl's gotta eat right? But to find a suitable lunch location in Amsterdam isn't all that easy so here are some suggestions: Lotti's, Harbourclub and Harbourclub Kitchen, Bluespoon, George Marina, Dik en Cunningham and Vis aan de Schelde. These restaurants offer a fine lunch in Amsterdam and are popular destinations for many business men.
A restaurant on sunday or monday: Okay, we all need a day off from work but do all of the best restaurants really have to close on either sunday or monday? Some don't and offer great dining options on those days as well: The Duchess, De Juwelier, Daalder, Beulings, Maris Piper, Amstel, Bridges, Red, Senses and The Lobby. We know it might feel like magic when we create the perfect match with your high class escort, but our magic does not extend to the restaurant business. We can not magically make closed restaurants open up shop because you really want to go there. Really.
Dinner in the late evening: Dutch people tend to eat early so it's no surprise most kitchens will close their kitchen around nine or ten in the evening. Some restaurants also offer (mostly casual) dining options in the later evening such as: Cafe Caron, Bark, Lucius, Envy and Canibale Royale. Please keep in mind the reduced Dinnerdate Rate only applies for bookings starting no later then 21.00 (9PM). The reason being that dinners starting this late in the evening tend not to be full dinner dates but more the "grab something to eat" type which we do not consider a dinner date. Read here what we think is a dinner date.
Extra quiet dining: Do you like a quiet setting for dining? Perhaps because you can hear your escort better? Or because you are on the autism spectrum and have trouble with too many stimuli? Then these restaurants are the best choice: Spectrum, Bridges, Bolenius, Lizboa and Yamazato. When making your reservation, always explicitly state that you would like the most quiet table.
Extra discreet dining: If you desire absolute privacy with you high class escort then you are of course free to use roomservice or cook with or for your escort, during which the Private Rate applies. To our repeat clients we also offer special arrangements such as dinner during a private tour on the Amsterdam canals, private dining and so much more.
Fine dining near Schiphol Amsterdam airport: Chances are you're booked into one of those business hotels near the airport. Your assistant and/or boss booked you into this hotel and you really have no saying over it. But no business without pleasure right? We are well aware of the reputation of most dining options in such hotels. Grabbing a (roomservice) steak, burger or caesar salad will most likely do, but not if you are in the company of an elegant lady. Fine dining around Schiphol airport can be found here: Aan de Poel, Lute Kruitfabriek, Qunis, De Jonge Dikkert, Jaimie van Heije, Het Bosch, Rembrandt and The WineKitchen at Sea.
Looking for a cocktail or glass of wine with some snacks: If you are not interested in a full on dinner date but enjoy going out for a drink and have some snacks then there are a few hidden pearls that Amsterdam has to offer: Pressroom, Bubbels and Wines, Skylounge, Shiraz, Bar Alt, Van Rijn, Tales and Spirits and Mondi. If you are looking for a more casual setting we recommend Paskamer, Divino and Bar Centraal. None of these locations are typical tourist attractions and all offer small bites in addition to a very extensive wine, cocktail and champagne collection, also by the glass. It is the perfect way to get romantic with your high class escort if you are not desiring a dinner date.
Recommendations and suggestions
As mentioned before, the places mentioned above are just suggestions. We have no cooperation of any kind with the suggested locations and they are only based on our personal preferences. Do you want your location to be added or removed then please send us an email and we will take your request into concideration.
RELATED
CONTENT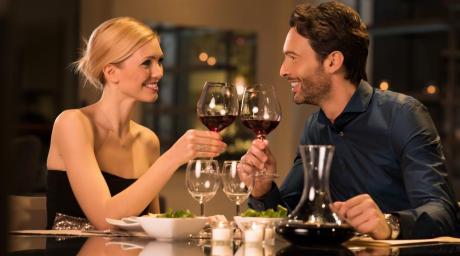 BLOG ITEM - 28 February 2022
Other activities during the Dinner Date with your high class escort A Dinner Date is...
READ MORE