The Artist Experience with high end escort Liv
High end escort Liv from The Hague offers the Artist Experience
Our high end escorts regularly surprise us with great ideas. For example, escort Liv from The Hague introduced her Artist Experience to us, which she tells us all about in this blog how she envisions this. She even made a beautiful illustration.
Escort Liv from The Hague and her Artist Experience
"Together, we stand in front of one of Toulouse-Lautrec's naked portraits in the van Gogh Museum. On my face a naughty smile because I know something that you still have to learn: under my blouse, and under my skirt, I am completely naked. That isn't only practical for what we're about to do later on, but is also so exciting that the idea alone is responsible for me standing here, soaking wet, in the museum. Unfortunately we aren't alone. Right next to us sits an old woman. Rather fancy, short grey hair and severe red glasses. She's staring at this painting that's hanging in front of us with a concentrated stare. She gets closer, than a few centimeters back, inspecting the work as if it was a rare, undiscovered gemstone. The painting depicts a naked woman, with her beautifully round cheeks and pale skin, elegantly woven into the sheets of a messy bed. We would also prefer to be laying in bed. Together. But now that we're here, we might as well gather some inspiration.
I adore paintings. Getting lost in them and wandering the halls where they are hung is what I love doing the most when visiting museums. From modern-abstract to rather classical-figurative, I devour them all, although my favorites (is it a surprise?) remain nudes. I'm in awe of the way old masters depict feminine beauty; so disconnected from today's beauty standards, yet so beautiful, those soft white bodies with their soft white breasts where you would want to press your face in between. This nakedness, since I'm a high-class escort, has taken up a whole other dimension. An additional layer from which arises this rebellious smile that I cannot suppress. When standing in front of a nude, I feel oddly bonded to those depicted women.
Leaning towards you I whisper something in your ear, so softly that I am certain the neat woman with the red glasses doesn't hear me. 'That's me', I pronounce, while swiftly pressing my lips against your skin. I'm subtle and no one noticed my gesture. I make sure of it. In the public sphere I am as stern as the red glasses-woman. But later, once we are finally alone, I will be the naked woman from Toulouse-Lautrec's painting. You first look at me, then at the art work, then at me again. Your eyes are both excited and confused. I smile and whisper: 'When impressionist painters such as Lautrec needed a nude model, they went to a courtesan.' A grin appears on your face: 'Ah ha. You mean a high- class escort.' In the meantime, the neat woman has gotten so close-by the nude-portrait that it looks as if she's about to go down on her. We giggle and I say: 'Come... this is our cue.'
On our way to the hotel, we joyfully chit-chat about all and nothing while the unspoken tension keeps rising. The tension becomes tangible in the taxi through furtive looks and backseat caresses. Once in the hotel room, we are both about to burst. We want to kiss each other, feel each other. So badly. But right before our lips touch, I put my finger on your mouth: 'Wait just a little longer Picasso, got to get to work first.' Looking into your eyes, I undoo the buttons of your shirt one by one. Without looking away, I open your belt. Your pants slide to the floor. I cannot help but have a swift peak, my eyes unavoidably attracted by this enormous bulge. And although it's getting difficult to control myself, I consciously leave the bulge untouched. For now. I take off your underwear, leaving you completely naked. To show you you can now do the same for me, I take your hands and put them on the buttons of my blouse.
With every button you undo, your facial expression changes. You could call it painful desire, which is exactly what I was hoping for when I left my lingerie in the closet this morning. I slowly unzip my skirt and, once it also finds its spot on the floor, I have to repress a giggle. So full of admiration is your stare.
We are now both naked. You put your hands on my hips. I close my eyes when I feel your hands slowly moving up, over my breasts. A shiver down my spine. I don't want you to stop. I want you to keep touching me. Everywhere. But it's your turn to say: 'Now, wait just a little longer Picasso.' Almost offended, I clack my tongue and say with a smile: 'not nice'. I still grab my drawing equipment, brought especially for this Artist Experience. I have, for us both, crayons, paper, and a wooden board as background. I lay down on my stomach on the bed. You take a seat on the couch.
You confess, 'I can't actually draw at all', the crayon aimlessly floating above the piece of paper. 'But that's not important', I answer. Leaning on my elbows, I take a blue crayon out of the box. 'It's isn't about what you put down on the paper, but about looking.' And I let my eyes meaningfully wander over your naked body. 'It's not a punishment to look at you', you tell me with a grin.
And then, in silence, I start with your contours, letting my eyes go over the robust curves of your manly body. I chose colours that don't necessarily fit with the actual physical reality, but I select them based on your individuality. We've just met, but I have already seen that you're a decisive man, that you know what you want, that you're funny, bold, thorough and that you have life experience. For those characteristics I chose bright red and dark blue. I set the lines with dark shadows, creating a strong image. In the meantime, I have also noticed that you're a tender man. It's important for you that I am enjoying myself. You care for others and that makes you a layered and integer individual. For this aspect of you, I use lighter colours and add subtle details.
My stare goes from the paper to your body, and when I arrive at your eyes, I see that you are doing the same. Your eyes keep wandering towards me. You look at me. Really look at me. The way only artists can look. I follow your glance which goes from my legs to my hips, to my ass, to my breasts. I feel a light tingling on every part of my body where your eyes have rested, as if you are actually touching me. That's the effervescing sensation I was hoping for: drawing and being drawn in a magical exchange, a building of tension without actual, physical touch.
But when our eyes cross again, we both now that we cannot delay physical contact any longer. I throw my drawing materials to the side, climb out of bed, unto you. We forget the drawings. We can only think about kissing. We can finally touch each other's bodies. The ass that you were just analyzing so attentively now lays in your hands. You stroke and squeeze it softly and I kiss you everywhere. Your lips, your cheeks, your neck, your collarbone... I use my hands to touch your body, your strong arms, your shoulders, your head. I feel you becoming hard in between my thighs. That excites me. I start breathing faster, heavier and, between your legs, I lower myself to the ground. Satisfied, I look up at you. "Where do you want to have me Picasso?"
RELATED
CONTENT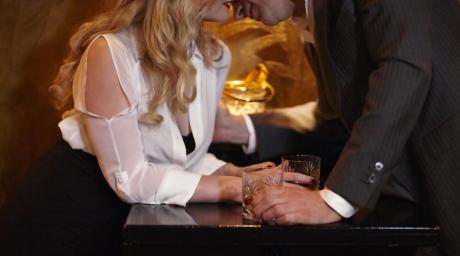 BLOG ITEM - 22 April 2020
Suggestions during a 48 hour booking with a high class escortAt the moment, short exciting...
READ MORE