New photos of our high end escorts
The annual outdoor shoot of our high end escorts is online
For two years in a row we were so lucky with the weather that we were able to realize the annual outdoor shoot of our high-end escort service. For our photo shoots we use a number of locations that we book for the occasion, but we also have two permanent locations available. Our outdoor location is one of them and it is at its best at the end of May. Then the flowers are the most beautiful and the weather is often the best.
A week before, the party seemed to be falling apart; rain had been forecast all day. But luckily this changed and it turned out to be a perfect day for photos. This means that it is not too sunny and dry. Although our high-end escorts were less happy with the lack of a bright sun, this resulted in the most beautiful photos. You can now find the results on our website. We also took a very nice group photo, which we are proud to share with you. Some of the escorts in the photo tell about it. Do you know whose booty belong to?
"Yes! Finally it was time… the annual summer photo shoot. This would be my second shoot and I had been looking forward to meeting my sweet, nice and beautiful colleagues for days! Also quite exciting what this day would bring. In the morning I pack my most beautiful and sexiest lingerie with butterflies in my stomach. In the weeks before I already have a lot of fun putting together my sets, beautiful heels and accessories. After an extensive shower, I make my way to the location with make-up and hair taken care of down to the last detail.Once I arrive I find a beautiful garden with swimming pool, ladies who walk around in the most beautiful lingerie, a photographer who puts us at ease and a well-cared-for catering. The vibe is warm, cozy and everyone is obviously looking forward to it! Now it's my turn to have pictures taken. I feel beautiful, elegant and sexy! Secretly I can't wait to see the end result… In between I enjoy chatting with colleagues and laughing together. I will soon have my first duo booking with one of them… a fantasy come true! When Marike chooses my 'booty' for the pool photo I can't believe my luck and I really enjoy being part of the group photo! I had a lot of laughs with Emma, ​​what a fantastic girl with a good dose of humor, I love that too! I think it would be great fun to do a bisexual duo booking with her. When the photoshoot is finished and the day is over, the champagne is popped and we close with a drink. I go home with a lot of energy, a huge smile on my face and a sense of gratitude for this experience and that I have met so many new, beautiful people. Working as an escort is a fantastic and exciting side job and I hope to experience many more fun, exciting bookings in the future. I love active and enterprising dates! Another fantasy of mine is to go to a kinky fetish party or swingers club one day… Will you take me with you?"
"If there is one place where you can show your femininity, it is on the shoot day of Society Service! Wearing beautiful lingerie alone makes you feel sexy and confident. The relaxed, cozy and open atmosphere that prevails shows how all the ladies enjoy what they do. And speaking of enjoyment: the beauty of the other ladies, wow! Everyone is a unique beauty in their own way, inside and out. It just gives the butterflies in my stomach more I hope to experience these jitters also with the type of booking where all my senses are stimulated. I like to experiment and connect with passion. A lost passion that I have recently rediscovered is dance. I visualize myself in the future in an intimate setting in which I can dance for someone and that he or she enjoys it as much as I do."
"The day of the outdoor shoot has finally arrived and I'm really looking forward to it! On arrival I immediately recognize a lot of girls, but it's always fun and exciting to meet new ladies. I soon start talking again with Emma, ​​and as we keep ourselves warm under a blanket with our bodies together (we're in our lingerie sets all day!) we chat about all sorts of things, Chloe arrives a little later, and it just so happens that Emma and Chloe both have the same latex suit I took it in a different color. And it looks great on them! Since a few months I've also been available for bisexual duo bookings, and I've found that I might like this type of booking the best. The tension it gives to work with another beautiful lady to make it a nice evening, really gives a different dimension and I find it very exciting.I have also been able to make a trio booking twice, and I thought this was the height of excitement and sensation. During the shoot, sometimes I catch myself fantasizing about a booking with the three of us: Chloe, Emma and me. Together with them I would like to discover my BDSM side more, and to make it all the more exciting, latex suits and associated BDSM attributes such as whips, blindfolds and candles should of course not be missed!"
"Finally it was my turn to take part in the annual outdoor shoot with a trolley filled with the most beautiful lingerie and swimwear. In addition to a closet full of beautiful and luxurious lingerie, I also have more than enough swimwear to choose from. My favorite is of course: The red baywatch bathing suit. When I wear this on the beach or at the pool, I see everyone from their book or phone look up. Besides the fact that I have bathing suits and monokinis in all kinds of colors and (animal) prints, I also love bikinis. And some items from the collection naturally have a surprising and not so revealing thong back. Unfortunately, it is not the case in the Netherlands that the weather is so warm that I can wear all my outfits with some regularity. The solution for this is of course a wonderful summer and sunny destination where we can go together. Several times a day a different nice bikini set to look at from behind your sunglasses. Well… the rest can watch, of course you can do a lot more…"
RELATED
CONTENT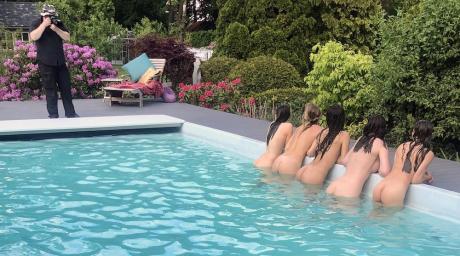 BLOG ITEM - 7 June 2021
In this way we take care of photos of our high end escorts Beautiful and representative ph...
READ MORE