Lingerie Experience with escort Emma
The beautiful lingerie of high end escort Emma
Many of our high-end escorts, but also our clients, have a preference for beautiful lingerie. It should come as no surprise that the Lingerie Experience is a much requested extra service at our escort service. Our escort Emma from Amsterdam likes this all too much because she loves beautiful lingerie. She tells more about it in this blog. Do you also love beautiful lingerie and do you want to surprise your favorite high end escort with a nice set? Then luxury lingerie boutique Pleasurements in Amsterdam is the place to be!
High end escort Emma tells us about her passion for lingerie
"I am crazy about pretty lingerie. I love entertaining and I like to make sure that you're having the night of your life. All of this I combine in a very special service; one we call lingerie experience. Are you curious what this lingerie experience contains and how it would look like with me? Keep on reading!
I knock on the door; you open up and start shining the moment you see me standing in the doorway. We give each other three kisses and you mention that you're glad I'm there again. You've been waiting for this night the whole week, and secretly, so have I. Tonight is our first time spending the night together, exciting! Which means we have the whole night to make beautiful memories.
You mentioned loving pretty lingerie, but especially me in pretty lingerie. You're curious and would like to see me giving a show. One of my clients once called me 'the entertainer' and I want to keep honoring that name. I'm putting in my creativity to give you a sexy and sensual lingerie show.
After a cozy catch up, drinking a glass of champagne and feeding each other strawberries, we start kissing on the couch. As one thing leads to another, the clothes are flying through the suite of the hotel we're in. I stop, kiss you in your neck and whisper in your ear: ''Time for something very exciting, don't you think?'' I place you on a chair, put on a sexy playlist and start dancing. I love dancing and practice multiple types of dances in my free time. Which also comes in handy for the lingerie experience. I pull out three sets of lingerie from my bag and a pair of high heels. I brought a black, red, and blue set of lingerie. I install all the lingerie on the table and with a sultry voice I ask: ''Do you have any wishes, what are you the most curious about?'' I see that you're already getting wound up, ''Red!'' you say.
While dancing, I start playing with the ribbons on my suspenders. I detach one of the stockings and slowly let it slide from my thigh all the way down, while my leg is stretched in your direction, so you can follow every move I make. While I crawl on the couch, my head keeps getting closer your way. Now I take of the other stocking and slowly let it slide over your body. From your neck to your shoulders, from your shoulders to your chest and belly and from there slowly downwards. At this point you are only wearing your boxers, but you're not cold.
While dancing I detach my suspenders. I move my ass over your genitals and I feel you getting even more excited. I turn around and grab your hands. I guide your hands on my body, but on my breasts and ass I leave them a little longer. Again, I kiss your neck. I take a step back, grab a chair and put it across you, facing the backrest. I seat myself and stretch my legs over the backrest, while I slowly take off my panties and throw them your way. I close my legs and turn around the chair, so you can finally see if your fantasy and reality will be equal. I take off my heels, climb on bed and go down on my knees and bend over with my naked ass facing your way. Only my bra is still on.
I notice the bathroom has a sliding door and walk that way. Your eyes don't lose track of me, not even for a second. I close the sliding door but not completely and take of my bra. You don't see me anymore and suddenly my bra falls right in front of you on the floor. I open the sliding door and start walking your way, naked. I grab the glass of champagne and ask you if you're thirsty. You nod and I give you a sip of champagne, from my mouth to yours. I grab the black set of lingerie. '' Do you like seeing me putting it on?'' '' I like it more if it's a surprise!'' you say. I slip into the bathroom and quickly change into the black set and my highest pair of black pumps.
After a few minutes in the bathroom, I walk your way in a very elegant way. I grab you by your hand and lay you on the bed. This suite has old wooden beams on the ceiling, which I hold onto while standing on the bed with my high pumps. I sensually and slowly lower down and sit on you with my ass. I start playing with my bra and thong. My hand slide in my bra and I push the bra aside so you can see my stiff nipples. I turn around and throw off my heels. I let you take off my bra, I stand on the bed and throw my bra somewhere in the room. While walking to the bathroom, I take off my suspenders.Once behind the door, I drop the suspenders on the floor. Without looking at you I walk towards the bed while only wearing my thong and stockings.
My whole body is dancing and in an exciting way I'm shaking my ass. I crawl on the couch, use the chair, and lay down on the table. You're now sitting up straight. With my back facing you, I drop my thong on the floor. Now only wearing my stocking I walk in your direction. We start kissing and caressing, your boxers are off. ''We'll try on that other set later. You're amazing, I want you now.'' You say. We have sex like only we can. We make memories. We enjoy each other fully, and for a bit, just a bit we're in love with this moment together. Just you and me. And a room full off lingerie. I'm hoping you will let me give you an evening just like this, very soon! xxx Emma
RELATED
CONTENT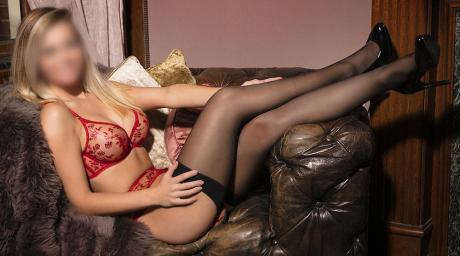 BLOG ITEM - 8 May 2021
High class escort Emma; from ultimate GFE to dominant BDSM Recently we have updated our pa...
READ MORE