These hotels all offer dayrooms, available during daytime
Can't spend the night with the high class escort? Book a 9 to 5 room!
Are you a busy man, ready for some relaxation? Then why not book a high class escort of Society Service for during the day. An exciting adventure with one of our ladies can just as well take place during the day. During a long lunchbreak for example, or before a meeting. Our escorts are very flexible and sometimes also available during the day. It's whatever suits your needs best. What is a suitable location for some daytime pleasure? How about a 9 to 5 hotel? These hotels offer dayrooms, allowing you to enjoy the gorgeous Society Service high class escorts at any time of the day.
Advantages of day rooms with your escort
There are plenty of advantages when booking a 9 to 5 hotel. Usually, there are no booking costs involved, you can book the room without using your creditcard, and if something comes you can cancel the room for free. In addition, the rate for such rooms are often up to 70% cheaper then the overnight rate for the same room. To think the same applies to the suites of one of the most prestigious hotels. So aside from the fact you'll be spending time with a beautiful woman, you have the opportunity to stay in a beautiful suite at a reduced rate. What more could you wish for?
Hotels with dayrooms in The Netherlands
In The Netherlands, several hotels offer the 9 to 5 concept. In most cases, checkin is between 9.00 AM and 10.00 AM and checkout between 5.00 PM and 6.00 PM, you will be able to use the room during the day. How about the five star Hotel & Spa Savarin in Rijswijk? This hotel offers some excellent facilities, such as a wellness centre and indoor pool. In the Randstad area, in particular around Schiphol, many luxury hotels offer dayrooms. But also in the middle of The Netherlands as well as the south, you can book a fancy hotelroom for day use. Many hotels do not offer the 9 to 5 concept as a standard option, you need to ask for it yourself. Worried about discretion? Then tell the hotel you are looking for a dayroom to get some work done without distraction and freshen up between meetings.
International bookings with your high class escort
The 9 to 5 concept also exists outside The Netherlands. Other countries also offer a variety of dayrooms in the most luxurious hotels. For example, in Vienna at the five star Hilton Vienna. And in London at the five star Threadneedles Hotel, offering luscious suites in the middle of the city. And when in Paris you can enjoy the luxury facilities of the five star Hotel Pullman Paris La Defénse. However, keep in mind our escorts are all based in The Netherlands, and due to the travel time to international destinations, require a minimum booking of 12 hours or longer. An overnight stay is therefore almost always required.

Curious about which other luxury hotels offer 9 to 5? Check them out here.
RELATED
CONTENT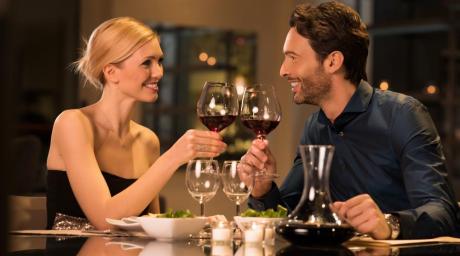 BLOG ITEM - 8 November 2020
Suggestions for luxurious hotels with a fantastic gourmet restaurant The new corona measur...
READ MORE