High end escort Amber from Rotterdam
Amber, high end escort from Rotterdam, talks about her first experience as an escort
When a girl transforms into a young woman, she will be shaped by many experiences. There is a first time for everything, which also applies to a high-end escort. Amber has now had a few bookings, but someone was really her very first date. This beautiful high end escort from Rotterdam is flourishing as a young woman and will tell you a bit more about her preparations for her first experience with our high end escort service. You will read for yourself what impact this first experience makes on the escort, which is why we are very careful when matchmaking for her first experiences as an escort.
The very first time of escort Amber
"I wake up with butterflies in my stomach, I open my eyes and know that today is the day. Slowly I get out of bed and let my negligee slide off my body as I walk to the bathroom to take a long hot shower. As the warm water flows over my body, I can't stop thinking about what will happen in a few hours. While washing my whole body with wonderful smelling amber and vanilla soap, I dream away thinking about my first client. How will his voice be? What color will his eyes be? How will his hands feel on my body?
I look at myself in the mirror. My eyes move from my freshly painted toes up my silky smooth legs, I follow the curves of my body, along my waist over my breasts. While looking at my shapes I feel sexy and confident. My wet hair falls loosely against my face, framing my bright blue eyes and subtle smile as I imagine what a great day this will be. I dry my body with a lovely soft towel, after which I apply a luxurious body lotion that gives my body a nice glow and ensures that my body will feel wonderfully soft all day long.
The feeling I get, knowing that I am wearing a beautiful black lace body underneath my discreet outfit that leaves little to the imagination turns me on...
As I walk into my bedroom I take my black lingerie off the bed. I will wear these under tight white trousers and a deeply cut silk pink blouse that hangs loosely on my breasts and accentuates my décolleté. The client I will be meeting in a few hours has asked if I can put on a "smart casual outfit" and provocative lingerie with high heels so that's exactly what I will do for him. I have always loved dressing up but now that I know what my client will like, I enjoy it even more and I can't wait to show him my outfit. The feeling I get, knowing that I am wearing a beautiful black lace body underneath my discreet outfit that leaves little to the imagination turns me on.
I am almost ready for my date and am starting to feel a little bit of the nerves, the good healthy nerves that I feel before a great date. It's time for the finishing touches, I put on some make-up, comb my hair and spray on my favorite perfume: Joy by Dior. The familiar scent takes my nerves away and in its place comes the feeling of femininity and self-confidence. It's almost time to go and so I check my bag again to see if I have all my goodies with me and of course some extra lingerie for the "lingerie experience" he has booked. My gaze lingers on a new deep red set of lingerie that I recently bought, I move my fingers over a number of strings that it consists of. It looks beautiful and I just know he will love it.
I close my bag and step into my favorite pair of "nude" heels. I do a little pirouette on my way to my front door, my long brown hair dances through the air and the scent of my perfume swirls around me. I look at myself in the mirror, give a big wink and step out the door, ready for my first adventure."
RELATED
CONTENT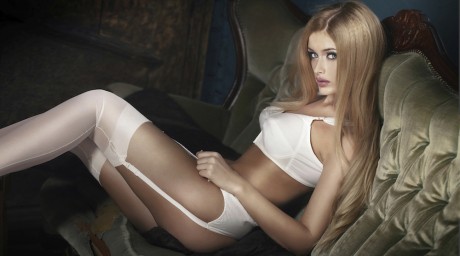 SERVICE ITEM - 31 May 2023
Are you a voyeur? Do you like to watch women in luxurious lingerie? Then you should defini...
READ MORE