High class escort in Maastricht
Suggestions for your booking with a high class escort in Maastricht
Our beautiful high class escort Chloe divides her time between Amsterdam and Maastricht. As a high class escort she visits places all over the Netherlands, and the rest of the world even on special request. But who better than someone with inside knowledge to give some tips about the best places in Maastricht. We asked Chloe, who joked that she was going to apply for a job at Your Little Black Book after this.
High class escort Chloe lives in Amsterdam and Maastricht
"An impulsive adventurer and optimistic jumper like me knows no homesickness. At least, that's what I thought, until I moved from Amsterdam to Maastricht. At almost 300 km from my trusted canal city, the south of Limburg felt like abroad. EA different city with different people, with a different language and different customs. "I don't like pie", I thought when I saw the umpteenth bakery, "and I don't like cobblestones", I grumbled as I rattled along the Grote Gracht with my city bike. I missed my favorite coffee shop and oat cappuccinos, my sunny terraces on the canals and my favorite restaurants. I fervently wished to be back in my familiar Mokum, where no one has time to eat cake and the streets are neatly paved."
Suggestions in Maastricht of escort Chloe
"Oh, how times can change… Now, three years later, I'm racing over those same cobblestones on my scooter on my way to my new favorite addresses. No, maybe there are no sunny terraces on the canals here, but it is equally good to stay at NOON on the Maas, or at 'T Wycker Kabinet in Wyck, where you can sit in the sun all day long with a tanned face and a glass of rosé. If it rains you can get lost for a few hours in the Bonnefanten or in the cozy cinema room of the Lumière film house. And if you don't feel like being an art history student (like me) for a while, you can also shop very well in Maastricht - for example at the exclusive lingerie store Courage."
Restaurants for your Dinner Date in Maastricht
"And how about the fantastic restaurants in and near Maastricht? Of course you go out for a trendy dinner in the Randstad, but you will also find a view there like at Rantrée, a decor like at Beluga Loves You and class like at tout-a-fait? And yes, there are beautiful hotels in Amsterdam, but the historic Kruisheren hotel and the luxurious Maison Haas Hustinx are also worth a visit. I even found a replacement for my favorite coffee shop; "COFFEE". They do sell oat milk and no flan. Finally, like I'm coming home."
RELATED
CONTENT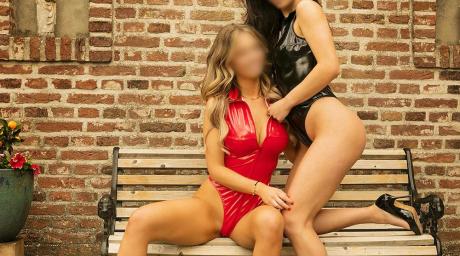 BLOG ITEM - 4 August 2022
The bisexual duo booking experiences of escorts Emma and Chloe In our previous blog,...
READ MORE