Naughty high class escorts Emma and Chloe
The bisexual duo booking experiences of escorts Emma and Chloe
In our previous blog, some of our high class escorts already talked about their fiery duo fantasies. Emma and Chloe already said that they had quite a few naughty plans in store, some of which they already experienced. Chloe gives us a small sneak preview but both ladies agree wholeheartedly that they tasted like much more. And by more, we don't just mean more often… but more in the form of even naughtier!
"Can I ask you a more personal question?" he asks, as we walk back from the cocktailbar, our high heels click-clacking on the authentic pavement of picturesque Amsterdam and each of our arms locked in in one of his. "Of course you can!" Emma exclaims, smiling her wide smile as only she can do. "You can ask us anything" I add, winking secretively to Emma. "Well, I was wondering…" he starts, "…erm, have you ladies been together before?"
I suddenly think about the first time Emma and I had a booking together. It was in the midst of winter, it was dark and cold outside, but we were inside having the most fun during an elaborate candle lit dinner. When we got to the bedroom I discovered that there was even more to Emma than bright laughs and exciting stories. Her beautiful sweet appearance remained, but something incredibly naughty got into her eyes too. 'This blonde angel is not so innocent as she looks', I thought, as she kindly but firmly pushed the client down in a chair. While he was watching us, we slowly danced towards each other, touching each others bodies softly for the first time. As we got closer and closer, I felt my body tingling with excitement to finally kiss. But right at the moment that our lips touched, she turned me around. Now standing with my back against her breasts, she started to teasingly run her hands along my body, further and further down. I could feel her lips almost touching my ear and her soft breath in the back of my neck turned me on even more. When she finally reached my inner thighs I couldn't help myself and I let out a soft moan. She quickly removed her hands, teasing me even more, and started to unzip my dress, slowly exposing my black lingerie. When my dress fell to the floor she turned me around, making sure the client had the perfect view of my bare back and bum as she pushed me forward a little bit and softly spanked my round butt. I moaned again, louder this time. 'Oh, you like that', she whispered, and then spanked me again, harder this time. I nodded. It was on and we both knew it.
"If we've been together before…" I repeat his question out loud as I think about that one time we gave that show… should we tell him about that? It might be a little too much, since this 'show' involved a very special toy. We started off with dancing and teasing each and when we were finally undressed I softly pushed Emma on the bed. With me standing butt naked in my high heels, I whipped out my toy; a small but firm strap-on. As I strapped it on she touched our new plastic friend, covering it in lube with her small hands. Then I bended forward, kissing her lips, neck, breast… As my mouth moved further downwards I could hear her gasping for air, her hands buried in my hair. Then I moved back up again and I turned her around in doggy-style, grabbing her waist with one hand and holding her ponytail with the other. With our bodies grinding against each other we almost forgot that we were not the only ones on this bed -almost. Just one sultry look to our audience was enough to confirm that it was time to lose the toy and invite the real deal to join this sexy party of two. The show was over, but the night had only just begun.
"Girls? Still there?" I blink my eyes. "I'm sorry, what was the question again?" I answer innocently. "Well, erm, if you ladies.." He starts. "Ah yes, if we've been together before", I add. 'Well, yes. Yes, we've been.. a little bit"
RELATED
CONTENT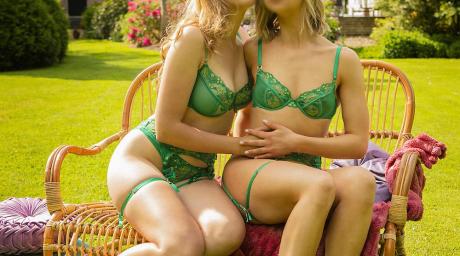 BLOG ITEM - 26 July 2022
The most summery bisexual high class escort duos Temperatures have risen quite a bit in re...
READ MORE