High end escorts with ultra long legs
High class escorts with long legs
Just as there are clients with a preference for breasts or buttocks, they are also men who go full out for escorts with long legs. Despite the many studies that have attempted to answer the why question, it is, just like the buttocks and breast topics, primarily a question of taste. Men who love long legs simply find it very sexy. Whether they are covered by a challenging short skirt or are enclosed by tight jeans, the effect of long legs remains the same. Are you one of those men who prefers long legs? In that case we would like to introduce a number of ladies to you. Since Society Service is known for having the most beautiful high class escorts from homegrown and Dutch ladies are known for their long legs, you certainly understand why you should be with us. Still not completely convinced? Then read on. Guaranteed that there is a lady among whom you think: she really has the most beautiful legs that I have seen in my life!
Alice, a high class escort with such long legs like you have never seen before
With her 1,89m, Alice is the longest high class escort Society Service has available. In addition to her long legs, Alice's sultry lips and angelic blonde hair are among her absolute unique selling points. Curious about who she is and what she has to say about the benefits of her beautiful long legs? Read her blog and you will be convinced that Alice is the lady who can make all your dreams come true.
Luna, a tall Dutch beauty
Those who love long legs hits the absolute jackpot with high class escort Luna. This beautiful Dutch lady is one of the longest high class escorts available at Society Service. As soon as Luna enters a restaurant or hotel lobby with her slender long legs, you will see that all eyes will be on her. As you are the one who is entangled in those two slender long legs later that evening, you will undoubtedly think: what a lucky bird I am.
Ella, angel on high heels and sensual lingerie
Ask Ella what her most beautiful body part is and she immediately says: my long slender legs. Once this beautiful high class escort from Society Service is standing in high heels for you, wrapped in sexy lingerie, you can only agree with her. Behind your closed hotel door, you will see with your own eyes that the legs of Ella are of a totally different kind than you are used to.
Dalia, young but dangerously sexy
At first glance she looks innocent, our beautiful Dalia. She is only twenty-three years old. But gentlemen, beware. Appearances are deceiving! As soon as Dalia stands in high heels in front of you and then shows you what they can all be used for, you will be happy if you can catch your breath after a while.
Emma, super sexy lingerie model
Do you know? When you open a magazine, you suddenly see a woman you think: ooh la la! What a beauty. I would seriously do anything to end up in bed with this woman once. Well, in the case of Emma these thoughts are no longer based on mere fantasy! This dazzling high class escort from Society Service, with blond hair and blue eyes, is a former lingerie model and not only that: she is eager to make your dream come true!
RELATED
CONTENT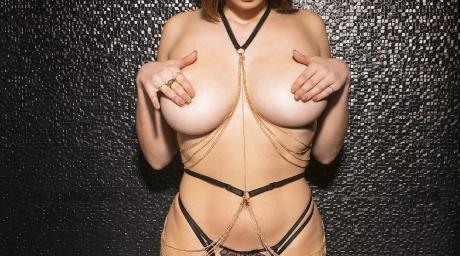 BLOG ITEM - 8 December 2022
The largest breasts at our high class escortservice Are you looking for a high class...
READ MORE