Gift suggestions for your escort
Surprise your high class escort with an exclusive gift
Although there is absolutely no obligation or expectation, the high class escorts from Society Service really appreciate it when you bring them an exclusive gift, cause let's face it, who doesn't like to be surprised? Of course, every present and gift you'll bring, is completely for the escort, our escortagency is absolutely not involved. Although our escorts are grateful for every present you'll surprise them with, we have compiled a list of suggestions. This way you know exactly what our escorts like, which undoubtedly will have a positive effect on your exciting date.
Perfume for a high class escort
Something that is always a great pleasure for our escorts, is when you spoil them with their favorite perfume. Preferably an eau de parfum, instead of eau de toilette. Since perfume is a very personal item, the profile of each of our high class escorts lists their favorite perfume. For example, Esmee thinks L'imperatrice 3 from Dolce & Gabbana is very nice, Madison is excited by Black Opium from Yves Saint Laurent and the perfume you can make Sofia very happy with is Sì from Giorgio Armani.
Lingerie for a high class escort
A present the escorts from Society Service always appreciate, is seductive lingerie. Just like perfume, the taste of lingerie is very personal, that's why the favorite brands of our escorts are mentioned in their profiles. For example, Charlie likes to dress in Bordelle, Agent Provocateur or Studio PIA, Alice thinks she looks best in lingerie from Love & Lemons, Elissa Poppy and Loveday London, while Nicolette prefers to wear Edge O Beyond, Aubade and Maison Close.
In case you decide to buy lingerie for the escort, we would like to refer you to this website: Pleasurements. Here you'll find beautiful lingerie, that turn our escorts into stunning and seductive princesses.
Jewelry for a high class escort
Did you book a heavenly high class escort from Society Service and you really want to impress her? In that case you always could bring a beautiful piece of jewelry. After all: 'Diamonds are a girl's best friend', at least if we are to believe icon Marilyn Monroe.
Souvenir, Champagne or flowers for a high class escort
It's probably not the first thing you'll think of, but the kind of present the high class escort from Society Service also enjoy are souvenirs from your own country. Also a fine bottle of fine wine, Champagne or a beautiful bouquet of flowers will be appreciated by our escorts. Besides to surprise someone, generosity is also about the intention behind the gesture, that's why: if you bring something for our escorts, you will see your gift will be paid back, five times over.
RELATED
CONTENT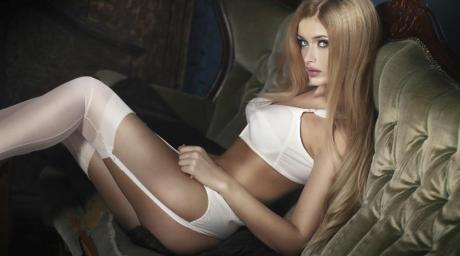 BLOG ITEM - 13 November 2020
Our high end escorts talk about their favorite lingerie sets High end escort and luxury li...
READ MORE