Culinary sunny mini-break with your escort
Enjoy the sun, sea, delicious food and your escort for a few days
Although most international bookings with our high class escort service involve an escort accompanying a client during his or her business trip, this is not always the case. It also regularly happens that a nice trip is specially booked by the client to fully enjoy his time with the high class escort.
In this blog we explore a surprising destination that lends itself optimally for a few days of enjoying the sun and good food, together with your high class escort. We're talking about Saints Constantine and Helena in Bulgaria. If you want to go to a sunny destination for a few days with your high class escort, this is probably not the most obvious choice. That is why we will guide you through this destination in this blog.
A budget airline with your high class escort
To reach Saints Constantine and Helena, fly to Bulgarian Varna. This is possible with budget airlines Wizz and Eurowings from Eindhoven airport and Cologne (Cologne) in Germany. In about 3 hours flying you reach Varna and from there it is a 20 minute drive to your hotel. For a reliable taxi service, send a WhatsApp to Alex on +359896812018. Not a fan of budget airlines and their usually unpleasant flight times? Then book a charter flight and have a helicopter drop you off at your hotel.
The most beautiful hotels to stay with your escort
Make sure to stay as close to the beautiful bay of Saints Constantine and Helena as possible, preferably with a sea view. In the area you will find several apartments and guest houses to stay. If you prefer a hotel, Villa Chinka is the absolute top. The nearby Astor Garden hotel is an excellent second choice. Although Saints Constantine and Helena is considered one of the most luxurious destinations in Bulgaria, you can take into account rates that are about 50% of what you are used to in the Netherlands. That applies to your hotel but also restaurants and beauty treatments, such as de wonderful "him and her" massage offered by Aquahouse.
Sun, sea and culinary enjoyment
You do not go to this region to explore it with countless cultural excursions. There is little to experience, with the exception of culinary delights. During this holiday you will especially enjoy a delicious lunch, dinner and sunbathing in a comfortable cabana bed. Therefore you mainly visit Saint Constantine and Helena from June to September. Ask your hotel concierge to take care of the reservations for you, that's by far the best way to make it happen.
You can enjoy a nice lunch in a down to earth setting at Beachclub More (International/seafood), where you can also rent the best cabana beds. Radjana Beach also offers good beds and is a bit trendier, which means that it attracts much richer guests and sexy ladies. For a trendy lunch, head to The Bay (Eastern influences). For a more luxurious lunch, go to Villa Chinka (International/French/Bulgarian). You can enjoy the most luxurious dinner with the best service in restaurant Monty (French/Bulgarian/International). For a slightly more romantic setting, go to Villa Mare (International/Bulgarian).
RELATED
CONTENT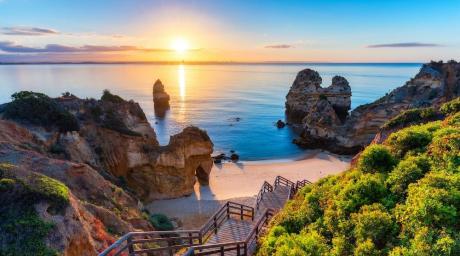 BLOG ITEM - 8 February 2022
9Suggestions for a visit to Portugal with your high class escort Our high class escorts ar...
READ MORE