Alice is an extremely tall GFE escort
A tall high class escort for a real Girlfriend Experience
Dutch women are, amongst other things, known for their height. We are actually among the tallest women on earth, and it will come as no surprise the majority of our high class escorts is at least 174cm (5'7'' feet) tall. Now, there is certainly something to be said for petite ladies, but many clients of our escortservice really enjoy spending time with a very tall high class escort who offers a Girlfriend Experience, perhaps even with some fetish play. To like ladies with (very) long legs is nothing extraordinary, but a fetish for amazon ladies, might be a bit less ordinary. I'm no Freud, but I think the idea comes from conquering an intimidating force, aside from the aesthetic beauty of course. We have several very tall ladies amongst our high class escorts, but the tallest lady is Alice, a high class escort from Amsterdam, who is approximately 190 centimeters (over 6'2'' feet) tall. We asked her to share a little bit more about being a very tall escort. Oh... and by all means... check out the picture we took for the occasion, which emphasizes the height of Amsterdam escort Alice.
Tall high class escort Alice from Amsterdam
"As long as I can remember I've always been "The tall girl". As a kid I was taller than my classmates and even in my basketball team all the other girls were shorter than me. I am 1,89m, which makes me 20cm taller than the average Dutch woman. This makes me stand out in a crowd but I have never minded my height and it never made me feel insecure or less feminine. I love wearing high heels and sexy dresses, to highlight my long legs and it doesn't bother me if I catch someone staring.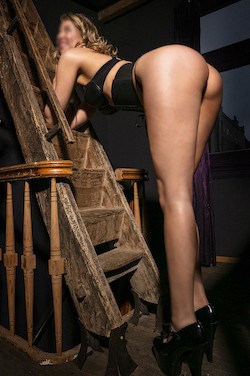 People often ask me if it isn't hard for me to find nice men to date. Well believe me, it's not! During the last years I've noticed that many men seem to like tall women with sensual long legs. Tall guys who don't want their girlfriend to be much shorter than they are, but also many shorter men that just love a confident, tall, striking lady like me.

If the man I'm with is shorter or taller than me, doesn't really make a difference in my opinion. As long as he gives me the feeling that he is proud to be seen with me, I feel great spending time with both taller and shorter men. So if you are a shorter gent who would love to see what it's like to look up to a woman, by all means, invite me for a booking and you can fulfill your fantasy!

In the bedroom some things might be a bit different but in my opinion my height is an advantage almost all the time. Wrapping my long legs around my lover is never a problem, even if you are a big guy. I can flip my legs over your shoulders while I'm on my back without any trouble even if you are a very muscular, broad bloke. If you are a tall guy that has never really enjoyed doggy style or sex while standing because you always have to bend over uncomfortably, we'll be a perfect match! With my slender, long legs I'm exactly the right height for these positions and neither of us will have to stand awkwardly.

For some men, height can be a bit of a fetish which as I mentioned before in the Fetish Blogpost is not strange at all, it actually flatters me. Fetishes are as normal as sex and I love it when I meet people that can be openminded about it. It's always fun to explore new ways of sexual pleasure. It's a naughty journey that I'd love to go on with you! One of my favorite fetishes is playing with difference in height. For me it's super exciting to have a threesome with a tall lady like Amsterdam high class escort Ella and for example a shorter man. This way Ella and I will be towering above you like goddesses. What I also very much enjoy is a threesome with a tall man and a petite lady like The Hague high class escort Helena. It's super exciting to see the different things our man can do to us. Being tall and short both have their own sexy advantages and I'm curious to see how you would play with that.

So if you are curious to see what it's like to go out with an above average tall girl who is confident in her own body and proud of her height, let's plan something and see how we hit it off! Let me know what your favorite type of shoes are, so I can make sure to wear an outfit that makes my long legs stand out even more. Thigh-high boots, sexy stilettos or plateau heels; I love it all."
RELATED
CONTENT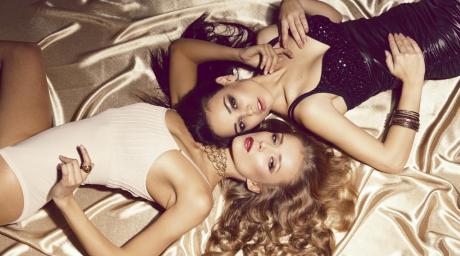 BLOG ITEM - 15 August 2017
A bisexual threesome with two tall Dutch escortsDutch women are, amongst other things, kno...
READ MORE