High class escortservice in Ibiza
Book a high class escort on the Spanish island of Ibiza
Is it also your dream to enjoy a holiday island with two wanderlust escorts? Noah and Vivienne can also be booked internationally! Our ladies regularly stay on a tropical island in the summer or winter months to distance themselves from the cold Netherlands. For example, high class escort Vivienne traveled to the Balearic Island Ibiza and high class escort Noah joined her for a wonderful holiday!
A booking with a high class escort is also possible in Ibiza. You can of course choose Vivienne and Noah, who are familiar with the island. We can hardly imagine it, but if Noah or Vivienne is not your type, then the suggestions below from Noah and Vivienne are also valuable for an escort booking in Ibiza with another nice lady or gentleman from our escort service.
A day out in Ibiza with high class escorts Vivienne and Noah
"Hey Vivienne, are you still in Ibiza?" I receive a message from Marike. Yes, I am in Ibiza. "The thing is…" Marike continues, "Noah is coming to Ibiza for a holiday. Shall I pair you up? That will probably be fun. Send me the bill for the cocktails and don't forget to take pictures for a nice blog!" No sooner said than done. But cocktails? I have something completely different in store for Noah and me.
High class escort Noah has the appearance of a lingerie model, but the sweet and warm way she greets me immediately puts me at ease. This is going to be really fun indeed. I am staying in Ibiza but will take Noah to the small island Formentera. This is possible with the Ferry, which we opt for today, but the local jet set goes by speedboat or private charter boat.
Fortunately, it is very normal to sunbathe topless on Formentera. With our rented scooters we go to a beautiful beach. Except for a small thong, we enjoy the warm sun on our bare skin and regularly rub each other with a nice oil. Marike's words are still buzzing in the back of my mind… "for a nice blog". While Noah is massaging me with the oil, I can hear my phone's self-timer shooting photos. Oil, (almost) naked women, sun, sea. That probably doesn't require too much text and explanation.
When our skin glows with the warm sun and our cheeks with the playful conversations I see Noah enjoying the colorful sunset. It's been a staple for me for a while now. "What do you think if we go somewhere for a nice glass of wine and something to eat?" I nod to Noah. Excellent idea. Under the motto "everything for Marike's blog" we explore the best hotspots for the readers. Of course assuming that we will be taken here again soon!
Vivienne's and Noah's suggestions in Ibiza
Are you a little more adventurous? Rent a scooter or motorbike to explore the island. Especially if Noah or I are on the back. The waters around the island are of course best explored by boat. You can rent these anywhere on the island, with or without a captain. We'll be like naughty sailors ready to help… Something active in mind? You can do the Cala Blanca walking route, this is a hike where you go through a tunnel and end up with very nice views, especially at sunrise!
Want to take a lady to the beautiful sunset? At restaurant La Torre you can enjoy a great view, combined with dinner. You can even spend the night there. Another place with a nice view is Es Vedra. This is an uninhabited island, which provides a magical and special magnetic vibe. This is an important place for spiritual people, but it is also very beautiful without that. Have a good caterer put together a basket with tasty snacks and a good wine so that you can enjoy it together with the escort at the most beautiful spot on the island.
For the vibrant nightlife that the island of Ibiza has to offer, Noah and I are happy to take you to Club Lío in the Port of Ibiza Town. An elegant club where delicious cocktails can be enjoyed every week while enjoying an artist. In addition to the high-end clubs that the island has to offer, the old part of Ibiza Town is also highly recommended, for the most delicious restaurants and cozy bars.
Looking for a culinary treat? Restaurant Es Tragón Ibiza in San Antonio is the first restaurant in Ibiza to receive a star from the Michelin Guide! Blue Marlin is also highly recommended both during the day and in the evening. Here the Ibiza VIP lifestyle is well represented. Other restaurants in Ibiza that we really like are Port Balansat and La Imprenta. Finally, Izakaya, Chiringuito Blue and Amante are also very worthwhile.
The most beautiful villas are often booked for the overnight stay in Ibiza, such as those of Harissa Villas. Prefer a hotel with 24/7 room service? Then these are the hotels where we prefer to spend the night: Ca Na Nixa, Petunia, Hyatt 7 Pines, La Torre Del Canonigio, Oku, Shiau, Pikes and Amare.
We hope to see you soon (in Ibiza)! xoxo - Vivienne & Noah
RELATED
CONTENT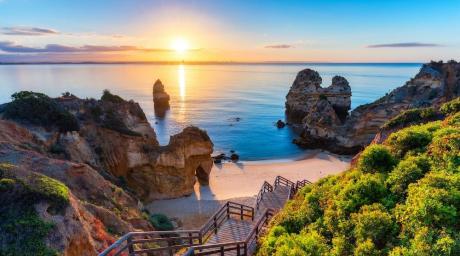 BLOG ITEM - 8 February 2022
9Suggestions for a visit to Portugal with your high class escort Our high class escorts ar...
READ MORE