High class escort Vivienne from Den Bosch
A little bit more about high class escort Vivienne
Occasionally we ask a high class escort to answer some personal questions or to tell something more about themselves. This time we asked high class escort Vivienne, who lives near Nijmegen. Vivienne is a spontaneous blonde, with beautiful honey brown eyes and a sparkling and catchy smile. She likes to further discover her sexuality and likes to try new things, hence her choice to work as a high class escort in addition to her job as an office manager. Vivienne tells more about her first experiences as a high class escort.
The exciting experiences of high class escort Vivienne from the Den Bosch region
"When I look back on the first months that I am active at high class escortservice Society Service, a warm and titillating feeling appears in my tummy. One of my deepest fantasies has become reality! A fantasy that I already had for a couple of years. A new lifestyle has developed, that has given my daily life, which was first purely filled with a busy office job, a naughty turn! A turn that fits my personality. People around me call me a real dare devil, someone who is always looking for an adventure and someone who likes to get the most everything out of life.

For me, the excitement from working as a high class escort is rather addictive. A feeling I keep looking forward to. My adventure started with an evening alone in my apartment, wandering my thoughts about what life would be like as a high class escort, what type of people I would get to meet and which adventures I would experience. While I was surfing the internet my eye caught the Society Service website, which was full of profiles off beautiful escorts and handsome gigolos. Before I knew, my first application was sent and the following rounds soon followed. Which made me learn more and more about the escort agency. The rounds ended with a meeting in Amsterdam with a number of other good-looking ladies.

I was excited to learn we would be doing a photo shoot in lingerie with the same group of ladies in the luxury apartment in Rotterdam that Society Service owns. Another dream came true! After this shoot I received my first booking. The excitement started with the message on my phone. Even though I am based near Nijmegen, the booking was in Amsterdam. I still remember how I prepared myself for the booking the morning before. I treated myself with a hot shower and I slowly oiled my body with a nice body oil, fantasizing who I would get to meet later that day. Steamy the hot shower and thoughts of my first booking, I chose the lingerie to put on and took a some extra sexy sets with me. I've always been passionate about lingerie, something you can never have enough of.

After choosing the right look I left for the hotel in Amsterdam. On arrival I was warmly welcomed with a present and a glass of champagne. The date was very successful and exciting! I had a glowing feeling for days to follow, thinking back of an amazing evening full of excitement, intimate moments and wonderful conversations. This was followed by several bookings including duo bookings. Where I fantasized about for a long time to experience an intimate adventure with a woman, I was allowed to be part of several bisexual threesomes with two seductive escorts. More first times that made me very excited!

You may understand that my addiction after these experiences has been richly fed, but fortunately isn't satisfied yet. So together with you I would like to let make more fantasies come true. I can't deny that I love to travel, imagine yourself sensually rubbing each other in on a white sandy beach or staring at the starry sky with our warm bodies against each other in a chalet located in the mountains. With me you can turn your (business) trip into an exciting adventure. Between your busy work we look for some relaxation together. Or we visit an exciting place where we are completely alone. Maybe in combination with some light BDSM? Where one of us takes the lead or we tease each other until our climax is reached. Blindfolded, not knowing what to expect with a tickling, tingling feeling throughout your body followed by a tap on your buttocks. Or do you want to take the role of a CEO who has always wanted to experience an adventure with his secretary? Or me dressed up in naughty (French maid) lingerie to 'clean' your room. When you tell me your deepest desires, I let you during our time together forget everything around you for a moment. Slowly we get to know each other and we build up a tension, that same tension makes your head spin. So you will enjoy every moment together, just like me. Will I see you soon? XOXO Vivienne

View the profile of high class escort Vivienne.
RELATED
CONTENT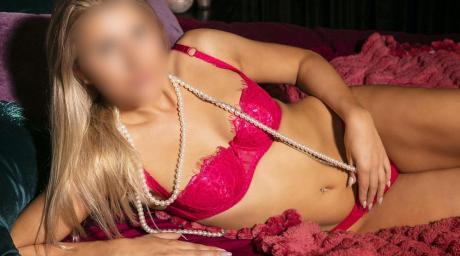 BLOG ITEM - 3 July 2020
High class escort Vivienne is back in the NetherlandsHigh class escort Vivienne is a beaut...
READ MORE