High class escort Chloe from Amsterdam
Amsterdam high class escort Chloe about her first booking
Our high class escorts share a variety of talents among them. Escort Chloe from Amsterdam is a lady with many talents, one of them being a great writer. Now that the trees are shedding their leaves, temperature drops and the days are getting shorter and darker, she looks back at her very first booking with our escortservice. Ever since she's enjoyed working as a high class escort.
Working as a high class escort
"My black pumps tap on the sidewalk and my long hair blows around my face as I run around the corner. My carefully selected cocktail dress seems to have decided that it would rather be a T-shirt and is therefore slowly creeping its way up, while my coat flutters behind me like a cape. I am already a striking appearance, but now even more so. Two boys on a scooter whistle when they see the edge of my stockings and suspenders, but I don't have the time to correct them and I certainly don't have time to fix my fashion faux-pas. I really have no idea where I am, in any case I am not where I should be right now: on my very first booking.
Then, very abruptly, I stop, just shy of tripping over the heels of my Jimmy Choos. My chest heaves up and down. "This makes no sense," I pant. I know there is only one thing to do and with shaking hands I grab my phone; "Marike?..."
Less than 20 minutes later, I am sitting relaxed in a hotel suite with a bubble bath and a view over Utrecht Central Station (my very first client has - in addition to the patience of a saint - a strong preference for trains) next to my date. After a nervous and almost incomprehensible story about concrete, darkness and whistling boys, Marike managed to direct me to the hotel within a minute, which was indeed a stone's throw from where the driver had dropped me off. There I was met, very attentively, by the client who guided me carefully and accurately into the hotel, took my coat upon entering the suite and complimented my outfit - which has now been retracted back to its cocktail dress size. Before I can wonder who exactly works for who here, I'm sitting on the couch with him, enjoying a delicious glass of champagne and an even nicer conversation. No, I really didn't have to be nervous.
When I stand outside a few hours later I feel that something has changed. Maybe it's the beginning of autumn that makes the night feel so different, or just maybe it's me. I look at my hands; long fingers, pink nails and my three rings. The same hands as those of the student who races to university through the rain tomorrow morning and drinks terrible vending machine coffee before going to her lecture, as those of the young Amsterdam woman who squeezes avocados in her sweatpants at the supermarket and who goes out at the weekend with her friends. Yet it is no longer just those two hands that I know so well, they are suddenly also the hands of a young woman who puts on luxurious lingerie a few times a week and goes to a date in high heels. The hands of a lady holding a glass of champagne as she gets to know her date better in a luxury restaurant. The hands of a woman of pleasure who enjoys herself to her heart's content between the sheets - sometimes with one partner, sometimes with a couple or sometimes with another escort. From now on I am no longer just the student or the younglady from Amsterdam. From now on I am also the high class escort Chloé.
I smile briefly, then wrap my coat tightly around me - no more intrusive looks from naughty scooter boys - and then walk out into the crisp autumn night. My already nice life just got even better."
RELATED
CONTENT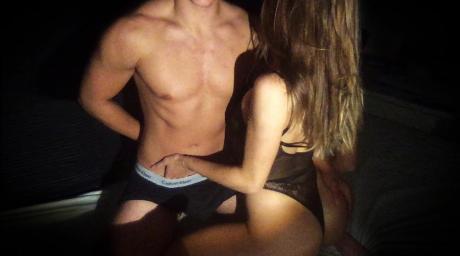 BLOG ITEM - 18 February 2023
Book a special duo with a high class escort and gigolo When two escorts are booked at the...
READ MORE