An exclusive escort for the ultimate Girlfriend Experience
Exclusive escorts, for that extra special feeling
First of all: of course all our high class escort ladies are 'exclusive'. Our beautiful, sensual and intelligent escorts can not be found everywhere, and for sure not with any other escort agency. All exciting ladies you see at our website are exclusively attached to Society Service. But there is more to the word 'exclusive' in our business: you can book the escort lady of your choice exclusively for yourself. And by that we really mean 'exclusively for yourself'. If you choose this option, the escort concerning is not available for other clients during a period to be determined.
In love with an high class escort
It regularly happens that a client feels so comfortable with a lady, that he don't want to 'share' her with others – for a short or a longer period. Suppose, you want her to travel júst with you, you want her to dine júst with you, you want her to make sweet love júst with you... Yeah, it is even possible that you fall in love with the young lady. Believe us, we can imagine... The possibility to book this perfect escort exclusively is a wonderful way to get to know her better. Of course not every high class escort can immediatly spare every minute of her time – our ladies are by all means no full time Society Service professionals after all – but when there is a mutual connection between the two of you, the lady absolutely will do her utmost to spend as much time as an exclusive escort with you as she can.
Exclusive escorts: no strings attached
You get the chance to know each other very well this way, and if things turns out as you both expected and hoped for, in time the agreement can be revised and the escort can resign from the agreement. Society Service will from then on interfere no more in the relationship. This exclusive agreement offers benefits for the client as well as for the escort. Both can 'explore' each other, without the escort feeling used as a 'cheap date'. And as the client concerns: there are no strings attached – if the lady is not 'the one' after all, then, without too much emotions, the agreement can be put to an end. But if the exclusive agreement leads to an real relationship, believe us, we will be ever so proud... After all, we just want everybody to be happy.
All-exclusive, all-inclusive
An important 'rule of the game' of this exclusive agreement is that there were some previous bookings with the high class escort concerned before we or the concerning lady consider your request. There must be a mutual connection already, otherwise this kind of agrement won't work anyway. But then, when you decide to choose the option of a exclusive agreement, you will really have a 'all exclusive'-experience, with obviously all 'all-inclusive'-benefits on top of that.
Are you interested in the exclusive escort agreement, please contact us. We will discuss your request with the concerning escort and offer you a tailor-made agreement.
RELATED
CONTENT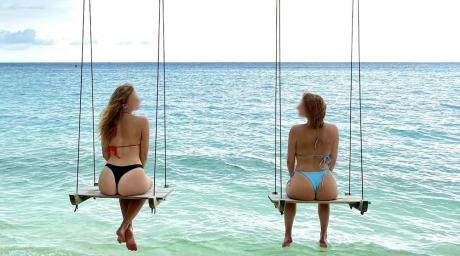 BLOG ITEM - 2 January 2023
The exceptional experiences at our high class escort service in 2022 What better way to st...
READ MORE