Dream dates of high end escort Elise
High end escort Elise tells us about her ultimate dream dates
Our high-end escorts regularly tell us more about what is on their mind and give you a glimpse into their daily lives. This allows you to get to know the high-end escort a bit better and learn weather she is a good match for you or not. High end escort Elise tells you more about her favorite things to do during a booking, perhaps that you are her new dream date?
"I've been working for Society Service for over a year now, and already have been able to experience the most fun and exciting dates. But always when I haven't been going on those dates for a while, I start dreaming about those fun evenings. I'm thinking about those romantic dinners with nice company, drinking a glass of champagne preferably with a nice view and exciting conversations deep into the night in the most amazing hotel rooms. Since we haven't been able to go out for a while, I have enough time to dream about this. For that reason, I thought it would be fun to describe my perfect date. And who knows, it might give some inspiration for nice encounters in the future."
Elise gets in the mood for her upcoming escort booking at home
"The excitement for a date, already starts in my own home. Preparing and making yourself pretty is always a nice ritual to get in the mood. This always starts with a nice long shower and rubbing myself in with a nice smelling body butter, perfect to get a silky soft skin. After that it is time to pick the perfect lingerie for the occasion, will it be that naughty piece with suspenders, or that lovely lace body? Pick a nice dress, add some perfume and it is almost time to leave. I'll always feel beautiful and excited to go to the date.
It is time to meet each other, I prefer doing this in the bar of your hotel. We take a little bit of time to get to know each other and get a good feeling to continue the rest of our date. One of my passions is art and culture, even in University I took a lot of courses focusing on art history and cultural exchange. I love to share this passion with someone else. Visiting a museum or strolling to the city looking at the architecture is something I would consider a perfect date. I can show you my favorite places in for example Utrecht or Amsterdam. Or if you love music as much as I do, we can visit a concert and maybe even dance and have a fun night out. I always feel enjoying such an activity can create an even stronger connection.
When we finish the dessert, I think it would be a great time to move to the bedroom. And finish this night in style. You can find out which lingerie I picked out, earlier today.
Wining and dining with high end escort Elise
After spending a nice afternoon together, it would be time to enjoy some nice food. I like to visit a modern and trendy restaurant or maybe a warm and cozy tapas place. I love to try delicious new dishes preferably together with a nice glass of wine. I'd love to do some actual wine tasting and exchange our preferences. And nothing complements a nice dinner as enjoying it with a good conversation in nice company. When you are a good cook, it could also be fun to prepare the diner together. I'm not a professional chef but I would love it to first have a laugh and fun in the kitchen, before lighting some candles and tasting or self- prepared meal. And I do have to say, I make a pretty good dessert.
When we finish the dessert, I think it would be a great time to move to the bedroom. And finish this night in style. You can find out which lingerie I picked out, earlier today. The next morning, we wake up together feeling, and maybe share some breakfast. After that it will be time to say goodbye. And after sharing one last kiss. When I'll go home, I still feel the glow of our lovely encounter.
I hope I was able to inspire you a little bit with the description of this perfect date. Maybe even meet each other in the future and experience my dream date or maybe yours? But for the time being I'll probably have to wait and crawl on the couch with a good book and glass of wine, and only dream about these dates. Love xxx Elise"
RELATED
CONTENT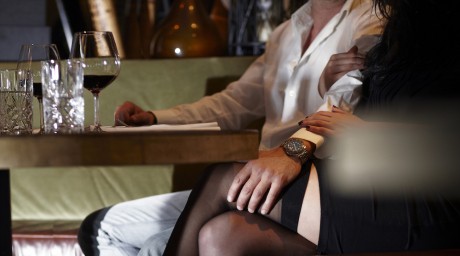 SERVICE ITEM - 27 September 2023
Our exclusive escorts are elegant, intelligent, discreet and very charming company for Din...
READ MORE