A bisexual threesome with two slim brunettes
Experience an exciting threesome with slim brunettes Jasmine and Chloe
In our blog we regularly make suggestions for an extra fun and exciting booking. Nice duo combinations should of course not be missing. In this blog we introduce a duo that is a real feast for the eyes if you like slim brunettes; Chloe and Jasmine. To be fair, when we took the pictures of these two new high class escorts, the question was how this duo would turn out in practice. We are now amply reassured about this; Chloe and Jasmine are a fantastic match.
"Jasmine and Chloe, Chloe and Jasmine. We have the same long, deep brown hair, but otherwise we aren't alike at all. Maybe that's why we're such a good match. Sweet and spicy, cheeky and sweet, an angel and a devil that challenge and complement each other. When we are together, the night seems almost impossible to be long enough…
I see Jasmine for the first time during our joint photo shoot. A wonderful day full of beautiful women in luxurious lingerie, full of bare legs in high heels, long hair that brush against bare skin and well-groomed hands with itchy nails helping each other with zippers and suspenders. In short, a fantastic day for everyone who loves women and a fantastic day for me as well. I feast my eyes. "Chloé?", Marike's voice suddenly sounds, I quickly pull my gaze away from Esmee's beautiful buttocks. "Do you know Jasmine yet?" she asks, nodding at the girl standing next to her. Just when I thought my day couldn't get any better… Jasmine is petite with long satin black hair, full buttocks, a sweet face and a seductive smile. I immediately love her and when Marike proposes to photograph us together, I don't know how quickly I should say 'yes'. We crawl on the bed in matching purple sets. I gently push Jasmine onto her back and then crawl over her teasingly. With my breasts just above her face, my nose on her neck and her hands on my thighs, we completely forget the photographer's presence. Jasmine is sweet and incredibly sexy at the same time, her hands glide softly and sensually along my body, our lips come closer together. "Yes, that's it", the photographer's voice suddenly sounds. I look up in trepidation; 'Already?'
Fortunately we don't have to wait long before we see each other again, this time we have a lot more time and we get the chance to get to know each other better. We are indeed true opposites, but with a flaming connection. What's the saying again? Opposites attract."
"My first experience with a woman was during my college education with a classmate. She was a very nice and fun lady with whom I wanted to do naughty things. Unfortunately we never went further than flirting and kissing and that made me long I thought my first duo booking was super exciting and exciting. There is nothing sexier than a woman in her beautiful lingerie. The way she looks at you and touches you is breathtaking. The location also plays a spicy role. Shall we undress each other in the bedroom or will the three of us take a bath? I'm really looking forward to doing duo bookings more often.
When Marike suggested I take duo photos with Chloe during the photo shoot, I knew right away that it was the right thing to do. Chloe is very spontaneous and open, I could tell that even at first glance. If you get to know her better, you will notice that she can be very sensual and seductive and ultimately... is a beast in bed. I found it very exciting and fantastic to do a duo booking with her. She has beautiful eyes that can look very seductive at you, a sexy body that you can't keep your hands off and her beautiful, round buttocks that make every woman jealous. It's great being in bed with Chloe. My sultry moments with Chloe are so fiery and at the same time passionate that we can seduce any man and make them long for more. To build up the tension I start flirting a bit, looking deep into her eyes and touching her secretly. And just before we go to bed, I like to give Chloe a slow striptease. There's nothing more exciting than a guy watching you while we're busy. What will happen next is a surprise…"
RELATED
CONTENT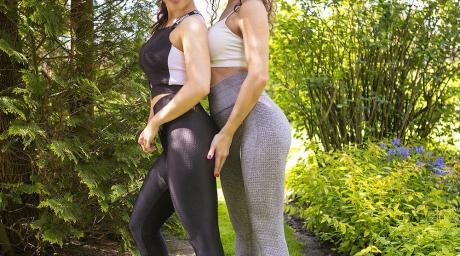 BLOG ITEM - 14 August 2021
An exciting threesome with the sporty high class escorts Beau and Lily Every now and then...
READ MORE