A bisexual threesome with your partner and an escort
Invite a high class escort for a threesome as a couple
Unfortunately, 2020 has not been a great year. We do not want to complain too much, because fortunately we do not belong to the group of entrepreneurs who see their company fail. But with all the measures and lockdowns, it's no fun really. Many relationships are in dire straits, now that people are so close to each other. But perhaps this also encourages conversations about wishes, desires and dreams. At our high class escort service we welcome many couples who book a bisexual high class escort for a threesome. We are happy to tell you more about it.
A trio with your partner and an escort
Have your partner and you dreamed of a threesome with a bisexual lady for a long time, but has it all been just fantasy so far? Perhaps now is the time. How? Society Service has beautiful bisexual escorts for couples who, because of their experience, beauty and discretion, are the ideal partner for an unforgettable ménage à trois!
A discreet way to make your fantasy come true
If your partner and you are considering organizing a trio with someone you know from your circle of acquaintances, for example, jealousy will of course soon be lurking. There is a chance that feelings will play a role. Do you want to make sure that your adventure does not lead to a love triangle? Then book a high class escort from Society Service. Our dazzling escorts stand for professionalism, discretion and therefore never pose a threat to your relationship.
A high class escort is elegant and stylish
Another reason to choose a high class escort from Society Service is because you don't have to deal with obscene advertisements. After all, you never know what types of people are behind the advertisements. By booking a high class escort you also save yourself from awkward situations in bars, cafes or wherever you hoped to interest someone in your fantasy.
The escort is an experienced lover
Want to know another good reason? Society Service's high class escorts are familiar with situations that may be new to you and your partner, including all the quirks that come with it. Also not unimportant to mention: Society Service's high class escorts are stylish, sexy and come in all shapes and sizes. Want to know who? At our high class escort service, we have various escorts available who are completely bisexual and enjoy visiting couples. On our website we offer an up-to-date overview of the available escorts.
RELATED
CONTENT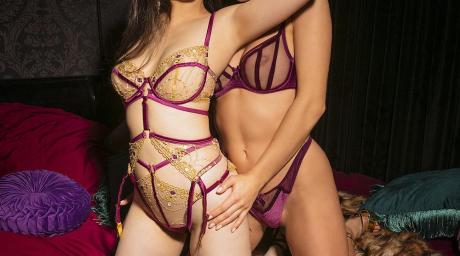 BLOG ITEM - 11 January 2022
Experience an exciting threesome with slim brunettes Jasmine and Chloe In our blog we regu...
READ MORE