An escort and gigolo experience an exciting threesome
Escort Daisy and gigolo Max went on a booking together as a special duo
Last week a client talked about his MMF threesome with high class escort Daisy and exclusive gigolo Max. Daisy and Max were of course very happy to read that and in this blog they tell how they found the experience. Both escorts are from Rotterdam, which was also the location of this escort booking.
Naturally, our escorts are also happy to visit you outside their hometown, just as they are also happy to help make other special fantasies come true. In this blog Daisy and Max will tell you that they both enjoyed this special experience a lot.
High class escort Daisy from Rotterdam tells
"I was looking forward to this booking. A fantasy would finally come true: A threesome with two men! I already knew the client, a very nice man with whom I feel at ease. A gentleman who always prepares everything well and manages to surprise every time and this time the surprise was a booking with gigolo Max!
A bit nervous I arrived at the Rotterdam hotel to meet Max outside. Then we went in together to have a drink with the client. It immediately felt good. There was a nice connection between the three of us and we had nice conversations. As time went on I felt more and more butterflies in my stomach for what was to come. Flirtatious looks were exchanged and when the drinks were finished it was time to go upstairs.
Arriving in the hotel room my dream came true. Not two, but four strong hands caressed my body. I was the focal point between two great men. I was kissed deeply by one while on my back I felt the hands of the other slowly stripping me of my beautiful black lace lingerie. I felt the blushes on my cheeks glow with excitement as the men started to undress too. The experience was passionate, intimate, intense and everything I imagined it to be.
Afterwards we drank a glass of champagne while we were all naked and satisfied next to each other. Me, surrounded by two men. It was a day never to be forgotten. I thoroughly enjoyed it and I think the men did too. Now let's hope I can experience this again, because this tasted like more!"
Exclusive gigolo Max from Rotterdam tells
"This was the first time for me that a booking was made by a male client, with the wish for an escort and a gigolo. Of course I found this very exciting. This booking was together with Daisy, a very beautiful appearance. I was meeting her for the first time, but of course had already checked out her profile on the website before the booking, which promised to be a fun booking.
Before we walked into the hotel in Rotterdam together, we had agreed to go through and discuss a few things. We soon learned that we were both equally excited to see this client. When we went for a drink in the hotel lobby, I noticed that the client also had some healthy tension, just like Daisy and I. It was obvious that all three of us were really looking forward to making this unique experience a success.
Once arrived in the hotel room, the client had already very kindly prepared some snacks and drinks, a very thoughtful gesture. I look forward to a booking every time and it was nice to see that the client had also looked forward to it and did his best to make it a fantastic experience. Working with Daisy was very nice. As far as you can still call this 'working', because it was a great experience for me too. Our time together felt as if we had known each other for a long time. Everything went so naturally, so everyone could enjoy the moment.
As a person I am very open minded, also on an erotic level. I have already had many exciting experiences and I enjoy it when I can also offer others a great experience. I enjoyed the booking and a naughty smile forms on my face when I think back to how the client enjoyed exploring his voyeuristic fantasies and our being together."
RELATED
CONTENT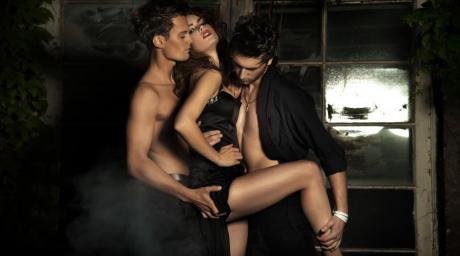 BLOG ITEM - 19 May 2022
High class escort Daisy recently experienced a MMF threesome At our high class escort...
READ MORE