A MMF threesome for high class escort Daisy
High class escort Daisy recently experienced a MMF threesome
At our high class escort service we receive requests in many shapes and sizes. A regularly recurring request is that of an MFF threesome, so two ladies and one gentleman. It is possible that a man invites two of our high class escorts for a bisexual duo, but couples also regularly invite an escort for a threesome.
A less common composition is an MMF threesome, so two men and one lady. Because we also have exclusive gigolos available, we sometimes receive requests from couples for an MMF threesomes, but a special request followed for our high class escort Daisy; a client invited her and gigolo Max to a MMF threesome. In this first blog, the client talks about this, but next week escort Daisy and gigolo Max will also have their say.
The client shares; two men and escort Daisy
"My first booking with Daisy was about six months ago. I then used a matchmaking option on the Society Service website. I had just read a book about Jung's personalities. Based on my Jung personality, Daisy came I was one of the first to come up. I liked her profile and she was available on the date I wanted. I was very excited about the date. Daisy's profile stated, among other things, that she was creative, open minded and intelligent. That was all right. She is a very nice person and very classy. I also quickly learned that the following sentence was absolutely true: "You will find Daisy to be soft-spoken, sweet and even a bit shy at first, but when you get to know her you'll discover her more naughty and passionate side." I felt an instant connection with her. We talked about a f-f-m threesome at the end. I doubted this.
After several months I booked a second appointment with her, which was even better than the first. Between the two appointments I still thought of a threesome. Not only to the f-f-m threesome, but also to a f-m-m threesome. In recent years, a f-m-m threesome had become a fantasy for me. It was a fantasy that came and went. In the past I also found it exciting to share voyeuristic sex fantasies with (sexual) partners. In reality it never happened. During the second date with Daisy, the subject of a f-f-m threesome also briefly came up. In retrospect I would have preferred to have discussed my f-m-m threesome fantasy too, so that I knew what she thought of it, but at the time it didn't matter to me.
A while after the second booking, the f-m-m threesome fantasy surfaced. Now I was unstoppable. The genie was out of the bottle. After a short contact with Society Service I booked a f-m-m threesome (a special duo) with Daisy and Max. Like my previous experiences, the contact with Society Service was short and sweet, to the point, correct and transparent. Of course I found it very exciting and every now and then I got cold feet. I'm slightly bi-curious, but I didn't know how I would react in reality. And what would Daisy think? We had talked about a threesome, but not a f-m-m threesome. Would she be very surprised? There are very few people I would do it with and Daisy was one of them. It was a nice and reassuring thought for me that she would be there. As a man I chose Max, a gigolo at Society Service. Daisy's comfort was my top priority and I reckoned she would be more comfortable with a Society Service gigolo than a stranger to her (if at all possible). The choice couldn't have been better in retrospect, but more on that later. Max is athletic and heteroflexible. The proverbial stray hand (and a little more) was no problem, which, looking back, suited me just fine. Max was also more or less between us in terms of age, which seemed nice to me, because then the chance of a connection between all of them would be greater. Luckily Daisy and Max accepted the invitation and I had something to look forward to. The booking was initially for two hours which I later adjusted to three hours, which was just right.
After a lot of looking forward to it, the time had finally come. The weeks before the booking I had watched porn with f-m-m threesomes in it to get some inspiration. The thought of it excited me more and more. The week before I was already busy preparing and buying gifts. Wonderful anticipation. We had an appointment in the hotel lobby. They arrived punctually and Daisy (and Max too of course) were very nicely dressed. Daisy was wearing a chic and sensual black dress, fantastically beautiful. I am a connaisseur in that regard. For me it was an excellent start and I was already enjoying it. The three of us had a drink. Daisy and I were able to catch up and Max and I were able to get to know each other and get to know each other a little better. Fortunately, I felt that there was a connection and positive energy between the three of us almost immediately. I was a little concerned about whether Max and I would be a good fit, which indeed we were. When there's no connection, things can go rather sour. Max is just a very likeable guy. I told them this was the first f-m-m threesome for me. I wasn't the only one. It was also the first time for Daisy. It was still on her bucket list and she was looking forward to it. I was very happy to hear that. I felt very good that I could give this to her. Max was the man with experience with f-m-m threesomes and it showed. Sparks quickly flew in the hotel room. Daisy, as with previous bookings, was full of fire and passion and visibly enjoyed her two men. With a f-m-m threesome, mutual trust is important in my opinion. Luckily, that was there. Everyone had the right intention and allowed each other's pleasure and enjoyment. Everything felt real. Each other's enjoyment was at least as important as one's own enjoyment. Everything went in a very relaxed and natural atmosphere and I felt a very pleasant chemistry. Everyone thought of and took into account each other. It was beautiful. Max's profile was also correct. He's on the dominant side, but (thankfully) not too dominant. Max is an expert (aka a grandmaster) in the female body and didn't hide his skills. I learned quit some things from him. Daisy looked and sounded impressed. The voyeur in me also got his money's worth. Every now and then I would withdraw to watch them and then join in again. Everyone was fantastic and everything was just right. Exactly as I imagined, the perfect scenario. Daisy thanked me a few times and said that this was a wish came true with two nice men. It was visible that both Daisy and Max are enthusiasts and, just like me, had great fun with it. This was the third booking with Daisy and each time I thought it couldn't get any better. Each time it turned out that I was wrong. It was a unique experience.
When Daisy and Max had already left, I had a beer in the hotel lobby as a nightcap in the same chair as a few hours ago. I had some chuckles (especially when a beautiful lady in a black dress walked by) and felt like royalty. Of course many thanks to Daisy and Max, but also to Society Service who made this special experience possible. Everything was excellently taken care of. In my opinion, this service makes Society Service unique in the Netherlands. I don't believe I could have had this experience elsewhere. The next day my legs were still shaky. It was a memorable day and I will enjoy it for a long time to come and gradually I will start thinking about a next booking. I'm curious what I'll come up with then. I've already gotten some ideas from Daisy that are still on her bucket list after today."
RELATED
CONTENT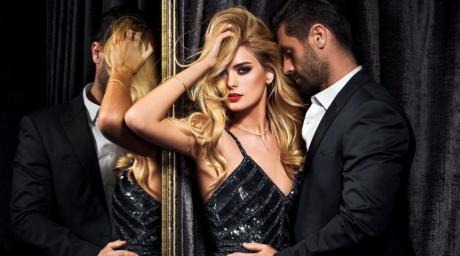 BLOG ITEM - 26 May 2022
Escort Daisy and gigolo Max went on a booking together as a special duo Last week a c...
READ MORE