Brunette bisexual duo with Helena and Lilly
Two brunette escorts for a bisexual threesome

Our high class escorts meet each other on several occasions, such as during trainings we provide, social events and photoshoots. It is not uncommon for two high class escorts to discover they have special chemistry between each other. If that happens, they usually ask us to set up more bisexual doubookings for them together, so they can benefit from this special chemistry, as well as the client. Now this time, the ladies happened to meet at one of our photoshoots in Amsterdam and we decided to capture the moment and ask high class escort Lilly from Amsterdam and high class escort Helena from The Hague to tell us a little bit more about it.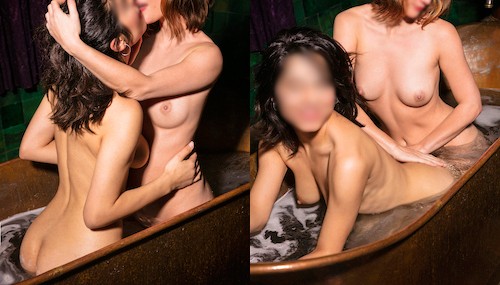 High class escort Lilly from Amsterdam

Earlier this year it was that time again: the Society Service photoshoot. The outspoken opportunity to show yourself from your best side. And good time to meet other gorgeous escort ladies! This time the shoot was on a very special venue: an old , classical decorated canal house in Amsterdam's city center was the background of our seductive poses, but also of my encountering with Helena. I was immediately impressed with her natural beauty in combination with her oriental mystery and powerful personality. After this crushing first impression, her playful smile, good sense of humor and openness, ensued chemistry between us.

It was not left unnoticed by our surroundings, so soon we got a proposition to do a part of our photoshoot together. This 17th century mansion also had a copper bathtub that we would enter together. It did not took me long to decide and my fantasy produced all sort of spicy scenario's. I would softly and sensual soap up her beautiful voluptuous breasts while looking into her deep brown, mysterious eyes. From there I would slowly discover the rest of her amazing body: from her perfectly round buttocks, to her slim legs and go up again to let my hands disappear into her full bundle of dark hair, teasing her by pulling it slightly backwards. I would kiss her. Slowly, soft and sensual at first. Then more eager, simply because I couldn't hold myself down. The flame that we both possess would fuse together and turn into a passionate fire.

My thoughts were roughly interrupted: the bathtub was ready for the last shoot of the day. And there we were, opposite of each other in the cozy, warm water. The tension was rising sensibly and I saw the same longing in her eyes as I felt. We played lusciously and it felt even better then in my fantasy. Of course we held back on set, so I can't wait to spend a real wild night with Helena, full of passion, connection and fireworks! And of course with you between us...
High class escort Helena from The Hague

Finally, today my second photo shoot will take place at Society Service in Amsterdam. Soon I will be photographed in the sexiest lingerie. I am already enjoying myself by the thought of me standing in one room with all types of beautiful high class escorts. While I'm styling my hair, I can hardly hold back my enthusiasm at that thought, I notice there's a big smile on my face. I remember so clearly, how beautiful the bodies of the other ladies were, that first time... Only a few hours later I find myself in a sexy dark purple-coloured lace lingerie outfit with matching black stiletto heels, as I'm rubbing my breasts with body lotion. All of the sudden a beautiful lady walks in. I look up, directly into her eyes. A naughty look crosses mine and as this nymph walks towards me, she holds out a hand: "Hi, my name is Lilly".

Almost immediately I feel an extremely naughty thought entering my mind as I shake her hand and gently pull her towards me to see her up close. Her hands are soft and the next moment her body looks just as soft. That naughty thought remains in my dirty mind and a few times I catch myself looking at her just a little too long while one sexy piece of lingerie comes off after the other. Would Lilly notice that I want her?

I catch her with a very naughty look on her fine face. Paired with that smile, that look could only mean one thing, right? And that black-coloured spicy lingerie outfit with her killer heels underneath, it could only mean that she too is in for some naughty playtime? A few moments later, I have the answer I so longed for. Lilly too loves some playing around because I find myself in a copper bath with her warm body pressed softly against mine. As I discover her curves with my hand and curl her playful locks around my fingers, Lilly gazes deeply into my eyes with that naughty look that gets me so hot. She gently pulls my hair to the back and I just lose it completely; I can't hold this sexual tension any longer and want to kiss her so badly.

Meanwhile I hear some camera flashes, something that gets me feeling even hotter. The naughty exhibitionist in me wants to share this moment of pleasure. Again I notice an exciting fantasy consumingmy thoughts completely: this time it's Lilly and me in a threesome. Right now I'd want to whisper some dirty words into Lilly's ears, but I'll have to restrain myself. Before I even realized we're done with the photo shoot and both of our naked bodies are outside of the cosy bathtub. One last time I absorb her sensual round shapes into my mind, you know, for later so I can continue fantasizing about our threesome ... will you come and play with us?